Mini Facelift
If you have signs of aging beyond the scope of injection treatments and are not sure about undergoing a full facelift, a mini facelift may provide the answer. Also known as mini lift or S lift (short scar facelift), this operation is becoming popular because of instant results and rapid recovery.
As we get older, the soft tissue volume of our face loses its elasticity and can droop. This may cause lines around the mouth to deepen, jowls to develop with softening of the jaw-line, and fullness under the chin to appear. The aim of a facelift is to raise the facial soft tissue volume and remove excess tissue to restore a more youthful appearance. The type of facelift used depends on the degree of age changes present and the extent of improvement desired.
The mini facelift is particularly helpful for early to moderate age changes, repositioning the facial skin, and tightening the jowls. The enhanced mini facelift takes this a stage further by also tightening the deeper tissues underlying the jowls. The mini facelift can be combined with other procedures, such as eyelid surgery or a brow lift,  to help achieve your desired appearance.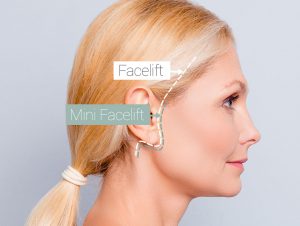 WHAT IS MINI-FACELIFT?
A 'mini-lift, or 'mini-facelift, is an innovative anti-aging procedure that uses the latest minimally invasive surgical techniques to turn the clock back on the age of your face by roughly ten years. Although new to the market, this technique is growing rapidly in popularity and is fast replacing the much more invasive and heavier-duty traditional facelift as an anti-aging facial procedure.
The mini facelift is a minimally invasive plastic surgery procedure that addresses wrinkles and sagging skin without the scarring and side effects of a regular facelift. It has become one of the most popular procedures done by Fattan Polyclinic in Dubai. If done by a board-certified surgeon, the mini facelift can improve skin texture, define the jawline and dramatically improve your appearance.
HOW DOES A MINI FACELIFT DIFFER FROM A TRADITIONAL FACELIFT (RHYTIDECTOMY)?
A mini facelift reduces minor sagging on the lower face and neck. It is a minimal skin tightening procedure that offers shorter-lived results than a traditional facelift. The incision is smaller than the incision for a full facelift. The mini facelift has a reduced recovery when compared to a full facelift.
A mini facelift is a less-invasive procedure as compared to a facelift, and can be performed in a few hours. A mini facelift is a fantastic option for men and women who are starting to notice aging changes and want a nice improvement in their appearance without a drastic transformation. It's also a good option for those who may need a more extensive procedure, such as a full facelift, but don't have the time or desire to go through the bigger surgery and opt instead for a mini facelift.
A mini facelift is a great option for those who have started to notice the effects of aging, such as the start of jowls, neck looseness, platysmal banding, and skin laxity. Similar to a full facelift, the mini lift also addresses the jawline and neck laxity in a less invasive manner.
A traditional facelift procedure (rhytidectomy) aims to rejuvenate the appearance of the facial area and restore a more youthful and rejuvenated facial appearance by tightening both the covering skin and the underlying muscle, called the platysma, and removing surplus skin from around the ears. We commonly combine this lifting with volumizing treatments such as fat grafting to the chin, jawline, lips, cheeks, and temples.
A traditional facelift procedure (rhytidectomy) typically takes place under general anesthetic and takes between 1-3 hours. More complicated and extensive procedures can occasionally take longer.
Incisions are made behind and in front of the ears in order to minimize and hide scarring. In some cases, the incisions extend onto the scalp.
From there the surgeon will reach into the deeper layers of the face in order to reposition and lift the skin and soft tissues of the face, and restore the underlying facial muscles into a rejuvenated position. These muscles can also be tightened, and liposuction to the neck may also be performed to enhance the effect of the facelift.
The full facelift is a more invasive equivalent to both the mini–facelift and a micro -facelift and can be discussed with your surgeon if you are looking to achieve the most impactful results.
CANDIDATE FOR MINI-FACELIFT
The mini facelift addresses the upper neck, jawline, and lower half of the face. Ideal candidates for the mini facelift are people with some laxity (loose skin) along the lower face or early jowls. Other suitable candidates are those who desire improvement of the lower face but do not want the long recovery associated with the standard facelift, or those who have had a facelift previously and want some additional improvement of the lower face. The mini facelift is not for everybody; people who have excessive neck skin laxity will need a standard facelift for optimal results.
BEFORE YOUR TREATMENT
You will have a formal consultation with a healthcare professional. During this time you will be able to explain your medical history, symptoms and raise any concerns that you might have. We will also discuss with you whether any further diagnostic tests, such as scans or blood tests, are needed. Any additional costs will be discussed before further tests are carried out.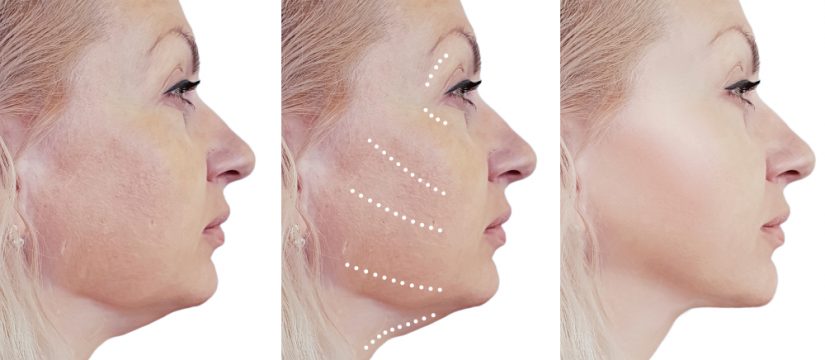 PROCEDURE
Though less dramatic in results, the mini facelift is still an effective option for reducing signs of aging in the face and neck regions. By making a smaller incision point, the mini-facelift can create a rejuvenating effect on the cheek regions and the jowls while reducing post-op recovery time and procedure complications. Variations such as "the s-lift," the "ponytail facelift" or the "lunchtime facelift" only slightly differ from the mini-facelift and minimally deviate in incision length or placement.
For this procedure, an incision is made at the hairline, extending behind the ear. For this procedure, the incision does not extend into the temporal or upper forehead region unlike its counterparts the SMAS facelift or the deep plane facelift. This allows for a considerably less invasive procedure. With the simple incision made, the surgeon will then raise the SMAS muscle. For this particular procedure, the SMAS can be raised and either plicated or imbricated. To close out the procedure, the incision is then closed and a head dressing is placed on the patient for healing.
Facelifts aim at making the candidate rejuvenate their face for a more youthful look. By "lifting" sagging cheeks and jawline skin, facelifts remove excess skin and tighten underlying tissue and muscle. The goal is usually to correct midface sagging, marionette lines, jowls and double chins.
CANDIDATE
The mini lift is the ideal procedure for anyone seeking to reverse the preliminary signs of ageing. Fattan polyclinic considers individuals fit for the procedure, if all of the following are true of them:
Physically and psychologically fit and healthy

Concerned by the ageing profile of their face

Seeking a minimally invasive alternative to traditional facelift surgery

Have realistic expectations of what can be achieved by surgery
WHAT ARE THE RISKS?
Facelift surgery is a safe procedure, but it is common after a surgical facelift to experience:
Bruising and swelling

Temporary numbness

A small amount of scarring 
As with all surgical procedures, facelift surgery carries some risk and it is possible that you might experience:
Nausea 

Bleeding or Infection 

Poor healing of incisions and scarring

A collection of blood underneath the skin (haematoma)

Death of fat tissue (fat necrosis) or embolism

Hair loss or hairline distortion
Your surgeon will discuss these risks comprehensively at your consultation and explain how likely these risks and complications are, and how they would be treated.
WHAT ARE THE BENEFITS OF MINI FACELIFTS?
The unique approach to the Mini-Facelift means patients look naturally 10 to 12 years younger without changing their expression. Rather than "lifting" the skin, the problem is solved by transforming the subdermal tissues to their original places.
Mini-Lift surgery is an operation performed in a hospital environment, without the need of general anaesthesia, but instead under sedation and local anaesthesia. Mini-Lift surgery takes around 1 to 1.5 hours with incisions inside and at the back of the ear. It can be performed in conjunction with other operations, for example eye lid surgery or injectables, depending on the patient's requirements.
WHAT TO EXPECT?
The mini-facelift suspends the SMAS facial muscle, however, the effects are less dramatic than a traditional facelift. After your surgery, you will be asked to come in for a post-operative appointment to come back and see our nursing staff at the Clinic between 1 and 2 weeks after your surgery. At this point your incision sites will be reviewed, and your preliminary healing will be assessed.
After 6 weeks your surgeon will personally review your progress – again at the Clinic – and make sure you are recovering as expected. In addition, they will remove any stitches and advise you on the need for further dressings. Throughout the recovery period you will have full access to our 24/7 on call nursing service, and full access to the Clinic and our post-operative facilities.
Our aim is to make you feel as comfortable as possible during the entirety of your recovery period.
As your anaesthetic or sedation wear off you will wake up in our recovery facilities at the Clinic. You may feel a little drowsy but this often wears off within a few hours. After several hours in recovery, you will eat and hydrate. At that point, you will be allowed to leave the Clinic by our nursing staff.
It is common to feel a little pain and discomfort in the immediate aftermath of surgery. This will wear off in due course. Our 24/7 on call service is open to all patients for any question or query they may have at this time.
The Mini-Facelift is a refined technique requiring less disturbance of the facial tissues and therefore is quicker. It takes perhaps 1-1.5 hours. There are variations of technique and sometimes extra refinements are indicated, such as fat grafting and stem cell treatments.
Some surgeons used to take well over five hours for the standard full facelift.
Historically, face-lift operations have been lengthier procedures, resulting in higher pain levels and longer healing time. Modern technology and refined techniques mean that a Mini Face-Lift operation now lasts around 1 to 1.5 hours, it is painless and healing time is much faster.
Choosing a surgeon who is an expert in their field and specializes in face-lifts will ensure you get the best results possible. At Fattan Polyclinic, we have innovative surgeons. You will be in excellent hands. 
Don't smoke! Smoking ages you, accelerating the ageing process dramatically.

Drink less alcohol! Alcohol dehydrates your skin and we want your skin to remain firm and supple in order for results to be long-lasting.

Keep a healthy weight! Significant weight fluctuations can change the shape and elasticity of the skin on your face. To remain that vibrant, youthful look following your facelift, avoid or cut back on alcohol.

Drink lots of water! Water hydrates your skin, it keeps the face looking full and fabulous.

Always wear sunscreen! Every day- no exceptions. The sun damages your skin, causes wrinkles and advanced ageing.

Take care of your skin! Following the instructions laid out to you by your surgeon for proper aftercare are of the utmost importance. It's also important to use high-quality skin creams, serums and to continue having professional treatments such as peels, fillers or Botulinum toxin to continue to support your desired aesthetic.