You think active acne is one of the most irritating dermatological conditions you could suffer through, until you're forced to deal with acne scars. We're not talking about the little dark or red marks that go away with time, exfoliation, and scar-fading spot treatments. Instead, we're talking about atrophic scarring—aka indented scars that form below the upper layer of skin tissue as a result of severe acne that prevents the skin from being able to regenerate tissue correctly, leaving behind uneven texture in shapes known as ice-pick, rolling, and boxcar scars.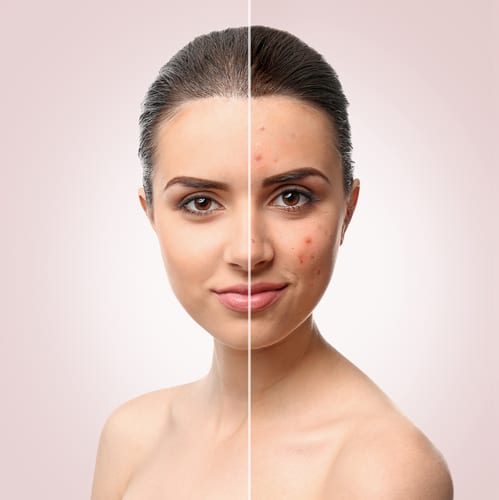 WHAT IS MICRONEEDLING FOR ACNE/PIMPLES TREATMENT?
Microneedling is a cosmetic practice that's used to treat a number of skin issues. "It's been practiced for more than 20 years in some way, shape, or form. With the evolution of the equipment and techniques, microneedling has become more prevalent within skin-care practices. You may have heard microneedling referred to as collagen induction therapy, skin needling, or percutaneous collagen induction.
The idea is to improve the way the skin looks and feels. According to Shah, microneedling can help with these concerns:
Acne scars

Fine lines

Wrinkles

Enlarged pores

Hyperpigmentation and sunspots

Lost elasticity

Uneven skin textures

Stretch marks

Uneven skin tones
WHAT ARE THE BENEFITS?
This type of cosmetic procedure is simple and doesn't involve surgery. Since no bleaching agents are used on the skin, micro-needling is suitable for all skin tones. Unlike harsh skin abrasion techniques, micro-needling will not cause discolored patches.
Microneedling might not only seem tempting for its skin-smoothing and resurfacing powers, but also for its other cool benefits. With this treatment, there's virtually no downtime, minimal side effects (only slight redness and minor inflammation) and the whole thing takes less than an hour – win! So, you'll be able to take hold of your acne scarring pretty quickly and effortlessly.
And if you don't want to take it from me, there's also science to back-up the impressive results of this acne scar treatment. One study reports a minimum 50% improvement (results actually reached as high as 75%) in acne scarring after just 2-3 microneedling sessions – you can't really argue with that!
To get the most out of this treatment, you'll probably need several microneedling treatments – roughly 3-9. The exact amount will depend on things like the severity of your acne scars, but speaking to your practitioner will give you an idea of how many sessions you'll need. And, of course, choosing a medically qualified practitioner who knows exactly what they're doing will mean you get the best (and safest) results.
HOW TO GET RID OF ACNE SCAR WITH MICRONEEDLING?
Microneedling boasts a pretty wide range of benefits (those of you with under-eye circles, wrinkles and large pores can all jump on the bandwagon), but its ability to smooth out bumpy skin texture is what we're here for today. And microneedling helps even everything out a little by causing intentional trauma to the skin – don't worry, not in a bad way.
Basically, what happens is, the needles on the microneedling device travel down to the dermal layers of skin and, as they do, they create tiny punctures – this is the controlled injury I was on about. And this stimulates the skin's natural healing process, which involves the formation of new skin tissue and the production of elastin and collagen – the same structural protein that's weakened when an acne scar forms. Collagen is a must-have component for plump and bouncy skin and, when it's spurred into action after a microneedling treatment, it helps to fill out the pitted acne scars and restores the skin's scaffolding. Hello, smoother, firmer, even-textured skin!
If you've ever suffered through the battle of acne, you'll know how annoying it can be. And if you've had to deal with acne scarring, you'll really know how annoying that can be. Yep, that's right. The struggle of acne isn't just about trying to clear up your blemishes – it's also about trying to make sure there's no trace of them once they've finally packed up and gone. But, sometimes, acne scarring is inevitable. And, if you're fed-up with the ghost of acne past, let me tell you about one potential remedy: microneedling.