Mesotherapy
Mesotherapy – Meso fat is an aesthetic medical specialty. It is a safe, minimally invasive procedure used to "melt away" fat, and reduce fat and cellulite. Fatty areas, like the abdomen, upper arms, and thighs are often the problem targets.  It involves injecting microscopic quantities of a variety of pharmaceutical agents, natural plant extracts, homeopathic agents, and vitamins into the skin.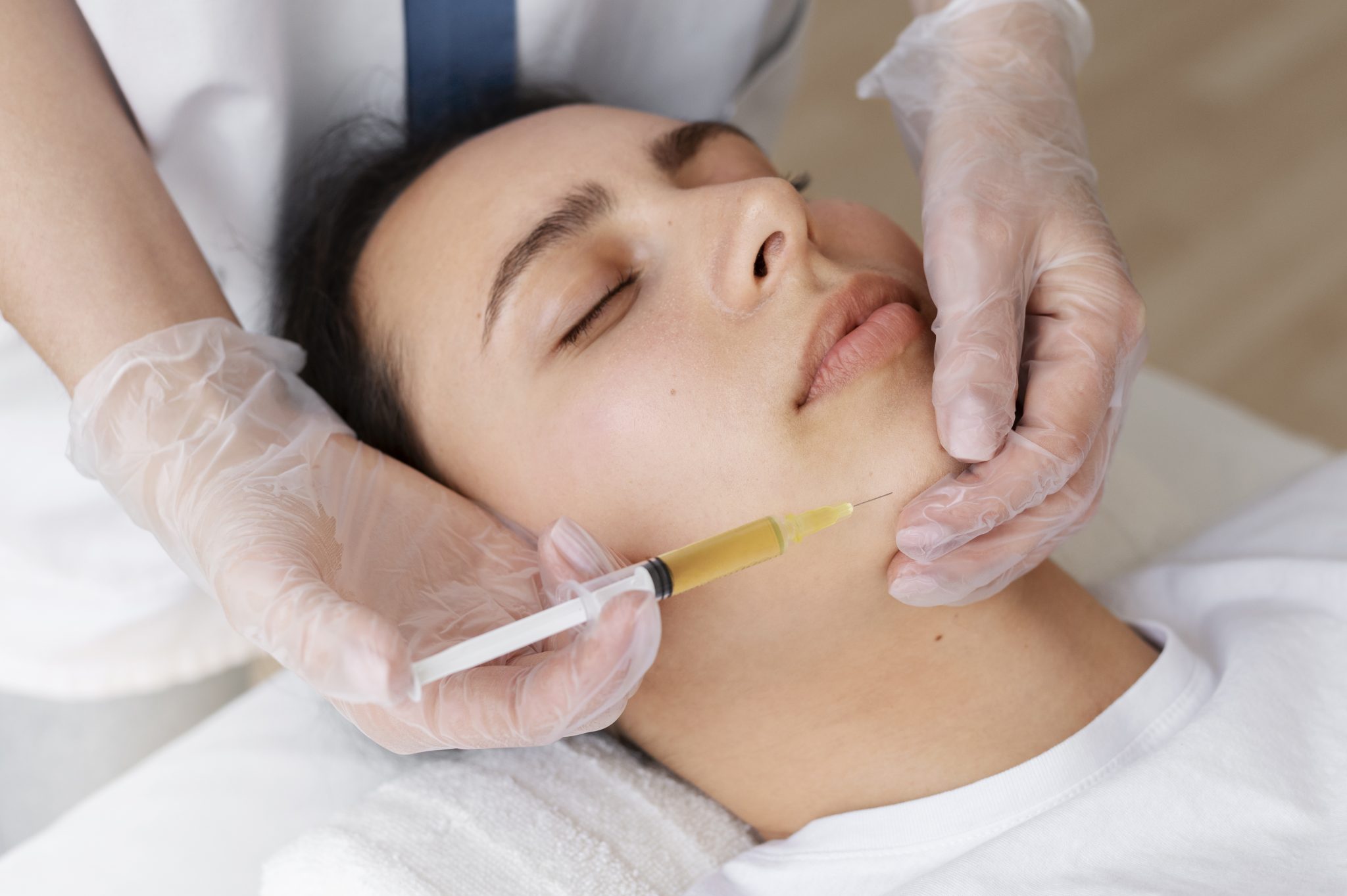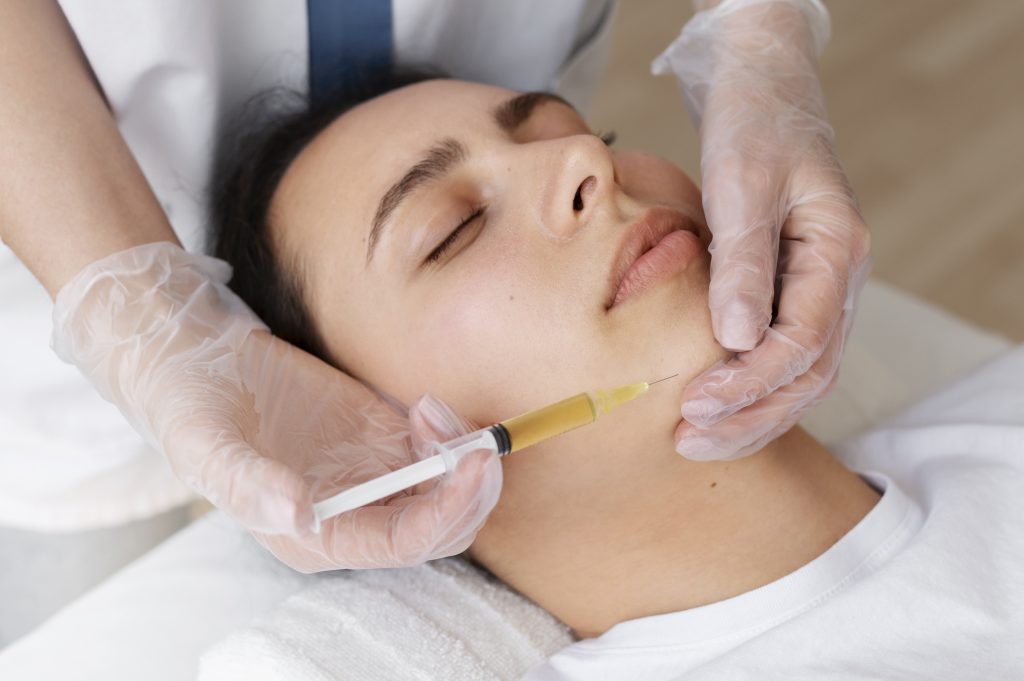 WHAT IS MESOTHERAPY  MESOFAT?
Is the substance Phosphatidylcholine. Extracted from soybeans, vitamins, egg yolks, and minerals. Down under the skin in the area of fat accumulation. These substances will act to dissolve fat in various areas of the body causing the fat walls to break out and coagulate into small clumps. The disintegrated fat is then excreted in urine and feces. Increase blood flow and lymphatic system Thus making the surrounding tissues stronger and firmer
POSITION
Mesofat is a controversial technique in which substances are injected into layers of fat and connective tissue under the skin. The injected ingredients can include agents that are used to burn down fat in the concerned areas such as:
Reduce cheek fat

Reduce fat on the chin (wattle)

Reduce fat on the upper arms, thighs

Reduce belly fat

Reduce fat on the nose

Reduce the fat on the upper eyelids

Reduce calf fat
PROCEDURE
The procedure generally takes 20 to 30 minutes to perform. The majority of patients experience minimal discomfort with meso fat injection. For those with lower pain thresholds, a numbing cream or painkillers can be used. It is a technique of injecting a small amount of a customized mixture of conventional pharmaceutical or homeopathic medications, vitamins, minerals, amino acids and enzymes into the mesoderm or middle layer of skin. These very small doses of the substances are administered using tiny needles in specific areas depending on the condition being treated.  It does not require a hospital admission, general anesthesia, or loss of productive post procedure time.
WHO IS NOT SUITABLE FOR MESOFAT INJECTION?
Women who are pregnant or in the breastfeeding stage

Individuals with a medical history of vascular disease, such as ischemic or embolic strokes and cancer

Individuals with low blood pressure

Individuals with cardiovascular disease

Individuals with diabetes who need to inject insulin on a regular basis

Individuals with infectious disease or immunodeficiency
POST-TREATMENT FOR MESOFAT INJECTION
Drink at least 2 liters of water per day. Since the liquid fats will be predominantly removed via urination, it is important to drink a lot of water to remove excess fats from the body effectively.

The injected area may be bruised as a result of minor damage to the capillaries. Hence, patients should avoid massages, sauna, and other treatments during the first week of the treatment to reduce bruising.

Swelling may last 2-4 hours and will gradually disappear without leaving any marks, dents, or bumps. Patients should avoid drinking alcoholic beverages and smoking.

Light exercises such as brisk walking, yoga, and aerobic should be performed 30-45 minutes per day and 2-3 times per week in order to tighten muscles, accelerate the process of fat removal, and impede the accumulation of fats.

Meso Fat injection will not deliver optimal results if there is no change to the diet. Therefore, patients should avoid eating fatty food, fried food, and buffet. Patients should eat vegetables, fruits, and boiled or steamed food, and should exercise regularly to prevent the re-accumulation of fats.
RESULTS AND DOWN TIME
Most responses from our patients are usually positive, as you can obviously see the change after 2 – 3 inches loss in excess fat in just a couple treatments. There are no long term side effects with Mesotherapy most side effects are temporary and are limited to bruising and mild irritation. After the treatments, please avoid exercise for 24 hours after your treatment. However exercise after that time is highly encouraged so that you will be permanently in the shape you want.
Mesotherapy usually requires 4 to 6 treatment sessions, administered at 2-week intervals.
Results of mesotherapy vary based on your body type and the severity of the condition. On the average, based on condition, the results can be seen in three to four sessions. For certain conditions you may see results immediately.
WHAT ARE THE KEY BENEFITS?
Mesotherapy is a safe, discreet, in-office procedure with no downtime. Single or multiple sessions of minimally invasive tiny injections into the skin of the face and/or body and scalp enhance the cellular function, strength and quality of the injected site. The goal is to beautify, to boost the glow of the face and body.
SUMMARY
A procedure that dissolves cellulites by injecting natural, homeopathic pharmaceutical agents and vitamins directly into the skin that flushes out cellulites through perspiration and urine for a smoother, more contoured body.
For further information and advice, contact us or book an appointment now!