Dermal fillers and injectables like BOTOX can do wonders to reduce the appearance of lines and wrinkles, but what if you want something to treat other signs of aging, like changes in skin tone and texture that can leave your face looking worn and tired? If that sounds appealing to you, PRP injection could be a good solution.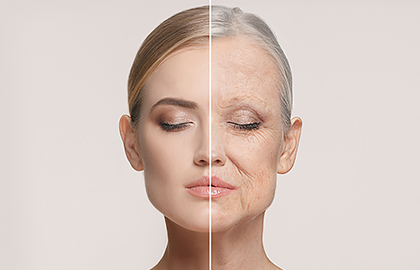 WHAT IS PRP?
In PRP injections, a sample of your own blood is processed to concentrate the number of platelets. Then this concentrated product is reinjected throughout the face to promote a natural healing response that helps reduce the damage caused by aging, restructuring skin so it looks and feels more resilient. If that treatment sounds familiar, you might know it by its "other" name – the vampire facial – made popular after celebrity Kim Kardashian went public with her own treatments a few years ago.
Once PRP is injected into your skin, it stimulates the production of collagen to form a stronger scaffolding for skin to reverse damage and reduce laxity that contributes to wrinkles and changes in texture. One of the main advantages of PRP injection is that because it uses your own blood, there's no risk of allergic reactions that can occur with other types of injectables.
PRP injections use very thin needles so discomfort is minimized, and treatments take under a half hour to complete. Afterwards, your skin may appear pinkish or sunburned for two or three days. You should begin to see initial results in about a month as new collagen forms.
PRP TREATMENT PROCEDURE
During the Platelet Rich Plasma treatment, We will remove a small sample of blood from the patient, from which platelets and fibrin are removed and concentrated into larger volumes. This mixture, known as a Platelet Rich Fibrin Matrix (PRFM), can then be injected into targeted areas of the skin to increase volume and rejuvenate the overall appearance of the skin as it stimulates tissue and collagen production.
PRP Treatment are performed in your doctor's office and take about 20 minutes. A local anesthetic may be used to reduce any discomfort associated with the injection, although this treatment is usually tolerated well. Many patients achieve their desired results in just one treatment, although additional injections may be required. Your doctor will develop a customized treatment plan for you based on the condition of your skin and your goals for treatment.
PRP Wrinkle TREATMET RESULT
After a PRP injection, growth factors are released into the skin for up to seven days to stimulate the production of collagen, which gives the skin a full, healthy and youthful appearance. For most patients, results are visible immediately and will continue to improve as swelling subsides. Full results may not be visible until three weeks after treatment as volume builds gradually.
While the results of PRP Treatment are not permanent, they are highly effective in restoring the appearance of skin and helping patients continue to look younger than they would with no treatment at all.
PRP TREATMENT SAFETY
Since only the patient's own blood is used during this treatment, there is virtually no risk of allergic reaction or complications associated with this treatment. Most patients experience only mild side effects such as irritation, swelling, bruising, itching and discoloration at the injection site, which usually subside within two days. We will discuss the safety of Platelet Rich Plasma Injections with you, as well as address any concerns you may have, prior to treatment.