Nose Thread Lift Dubai
A straight, pointed nose with a high nasal bridge is almost universally regarded as the ideal nose across different cultures.
Unfortunately for most Asians, a nose with a flat bridge and upturned tip is usually more prevalent. It primarily explains the demand for nose augmentation procedures where is non-surgical procedures such as nose thread lift are fast becoming recognized as a safer and preferred alternative to rhinoplasty.
If you're looking to undergo the non-invasive procedure, there are a few things you should know about, including its recovery and aftercare.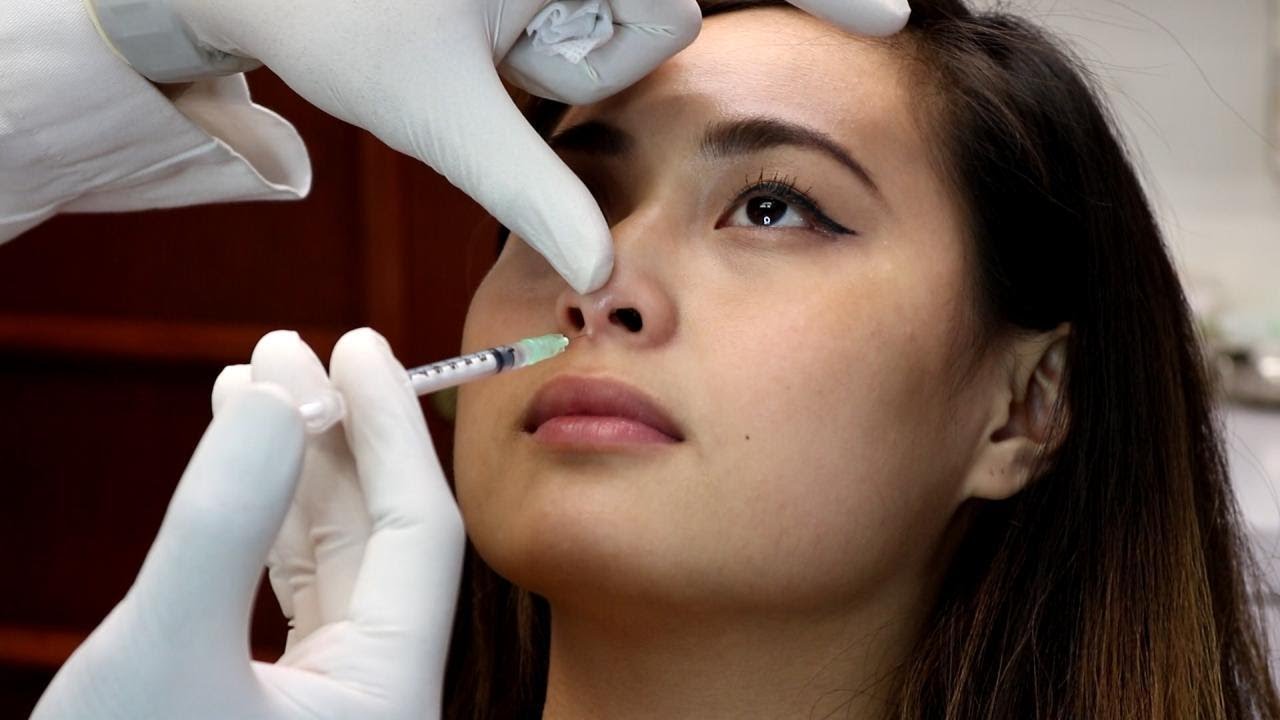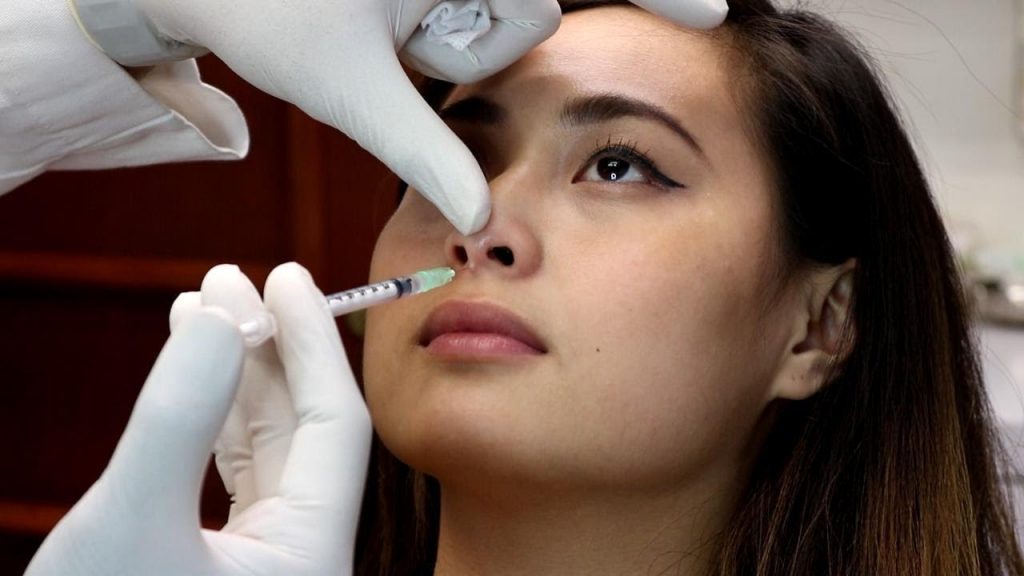 WHAT IS A NOSE THREAD LIFT?
A thread lift is an emerging non-surgical nose augmentation procedure that uses fine, absorbable threads to give the nose a lifted look. It is also often used in combination with dermal fillers for a sharper, contoured nose, and lifted nose tip.
It is considered a low-risk procedure with little to no recovery time and minimal risks of side effects such as redness, bruising or swelling. It can be performed in as little as 45 minutes, hence its name, lunchtime nose job— while you can resume your daily schedule afterwards.
Finding a certified medical aesthetics professional is the key to a safe and successful thread lift. There are also plenty of things you can do to support your recovery and get the best results.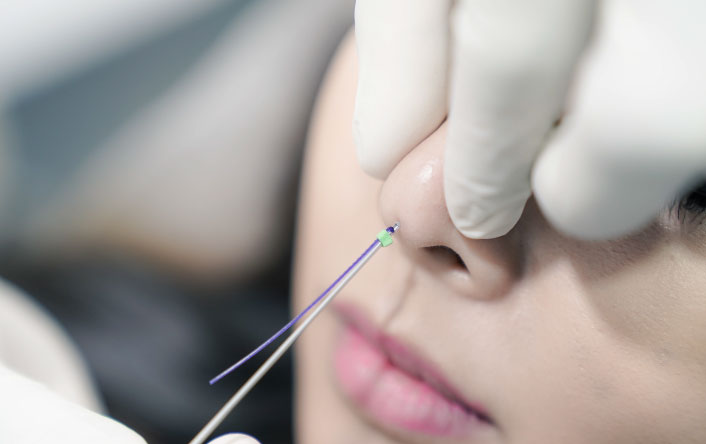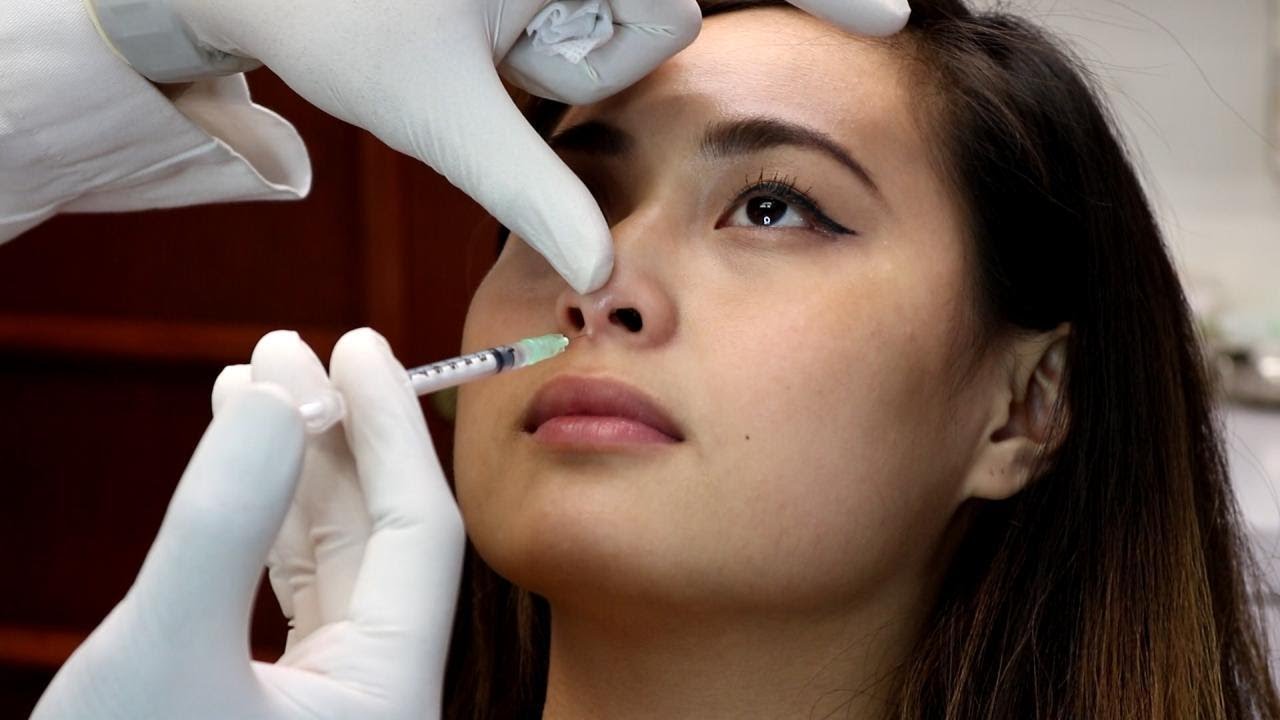 NOSE FILLERS VS NOSE THREADS
Nose filler treatment usually involves injecting Hyaluronic Acid (HA) fillers into the skin. It is used to sculpt the nose by precisely adding volume to the nose. These fillers are made of HA gel, which are compatible with your body.
After the numbing cream or local anesthetic has set in, the doctor will inject HA fillers into the bridge and tip of the nose to give it height and projection.
Nose Thread Lift Also known as a 'lunchtime nose job', PDO Nose Thread Lift is a treatment that can be completed in under an hour. Because of the minimal downtime, patients can resume their daily activities thereafter.
After numbing and application of local anesthetic, the doctor places fine threads along the nasal bridge for the height and the septum to give projection to the nose. The threads are placed under the skin to elevate the nose bridge and tip while stimulating collagen formation to provide sustainable lift for the nose.
The number of threads required varies according to individuals. An initial consult with the doctor is required to determine the current shape of the nose and the desired outcome before he can decide the number of threads required.
Results are immediately visible as the threads provide the scaffold for the nose.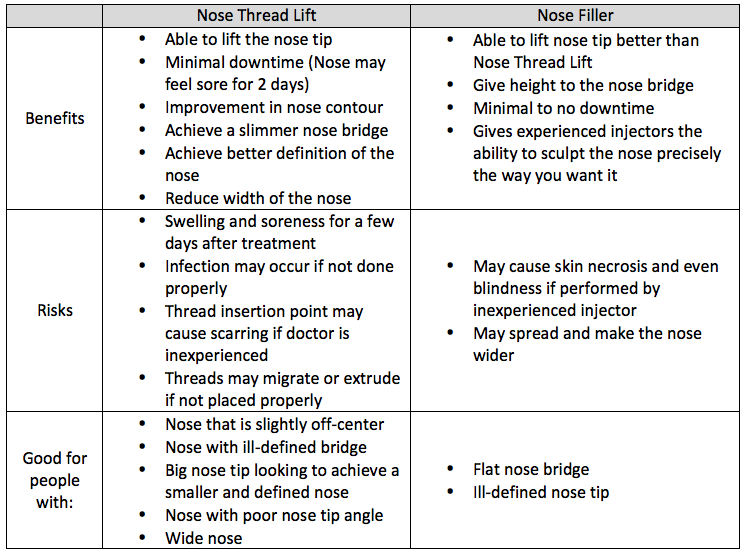 PROCEDURE
The nose thread lift enhances and lifts the nose tip and nose bridge using 2 synergistic mechanisms:
Mechanical lift: This involves using a small needle to create an entry point for the PDO threads. The Plastic Surgeon inserts them into the nose tip or bridge through a blunt cannula in order to create a mechanical lifting effect. This technique results in a more defined nose as it provides additional structure support leading to more definition and height.

Biochemical lift: The PDO threads that are used in this rhinoplasty technique are 100% bio-compatible with the human body. They usually dissolve in about 6-8 months following the procedure, and by doing this they induce the body's own natural collagen production in the path where the thread fibres passed. This results in gradual improvement of the contour and shape of the nose. The biochemical lift prolongs the effects of the nose thread lift and individuals can expect to have a visible nose lift which can last for up to 24 months.
The nose thread lift procedure usually takes an average of 30 minutes based on the complexities, has a minimal downtime and only one treatment session is needed for effective results.
DOES NOSE THREAD LIFT HAVE SIDE EFFECTS?
As the PDO threads are bio-absorbable, they will be broken down in 6 to 8 months after the treatment. PDO is an essential material used by surgeons for their surgical sutures.
It is normal to experience some soreness and swelling immediately after the treatment. However, these side effects will subside in a few days.
HOW LONG DOES NOSE THREAD LIFT LAST?
Results from a Nose Thread Lift treatment can usually last for about 1-2 years. If the treatment is repeated 9 months after the initial treatment, you can expect the result to be longer-lasting. With stimulation of collagen in the nose, some permanent lifting can be expected.
WHAT TO EXPECT AFTER THE PROCEDURE?
Following a nose thread lift procedure, there is usually some swelling, bruising and discomfort but these subside in less than a week. There is minimal to no downtime involved and individuals can resume normal activities immediately following the procedure. To maintain and prolong the results, touch-up sessions may be needed after the 24 months.
The nose thread lift is considered one of the safest alternatives compared to other nose enhancements procedures. This is because PDO threads are also used for surgical stitching, they have a safety record of more than 30 years, and have lesser risks of medical complications.
NOTE: All results vary from one patient to the next
AFTERCARE: WHAT TO DO AFTER A NOSE THREAD LIFT?
1-2 Days
-Take your medications as prescribed by your aesthetic doctor. These may include antibiotics to prevent infections and medicines for swelling and bruising. 
-Avoid applying makeup, but if you must, make sure to avoid the entry point. 
-Ice the treated area to relieve bruising and swelling.  
-Use an SPF30+ sunscreen to avoid sun damage.  
-If the pain remains the same two days after the procedure, contact your aesthetic doctor.
1-2 Weeks
-Avoid performing any strenuous activity
-Refrain from scrubbing, rubbing, or exfoliating your nose or the skin around it. 
-Do not drink alcohol or smoke up to a week after the procedure. 
-No to spas, saunas, or any activity that could expose your nose to extreme temperatures.
As said earlier, nose thread lift involves little to no recovery time. There are some things to be avoided within the first two weeks to make sure the treated area will recover quickly and the threads will not be displace.
With proper aftercare, the effects of thread lift can last up to two years, where the threads completely dissolve after insertion. The dermatologist may recommend you to receive maintenance treatments every 6-12 months.
At Fattan Polyclinic, we offer non-invasive nose augmentation procedures including nose thread lift and dermal fillers in Dubai to give you a safer and more effective non-surgical alternative to contouring your nose.
For more information about nose thread lift, recovery, and aftercare, you may ask us at Fattan Polyclinic  in Dubai