Acne Scar Treatment Dubai
Of all the skin conditions that could show up in our lives, few are as persistent as acne. It is commonly understood as a teenage problem, but recurs as late-onset acne that comes on after the age of 25. And that's not all. As many as half of all adult women experience some form of acne due to hormonal changes during perimenopause.
There's a visible difference between teenage and adult acne. Teenage spots are most common on the oily T-zone (forehead, nose, chin, and area circling the mouth). Adult-onset acne is usually seen on the cheeks, chin, jawline, and neck, called the U-zone. It tends to be inflammatory, so while it may show up at fewer spots than teenage acne, adult acne occurs as hard, stubborn nodules, and takes longer to resolve.
Acne can have a devastating effect on self-esteem and confidence, driving many sufferers to withdraw socially. What makes it even more painful are the physical and emotional scars left behind. However, the good news is that we can treat most acne, and acne scars as well, with the best results.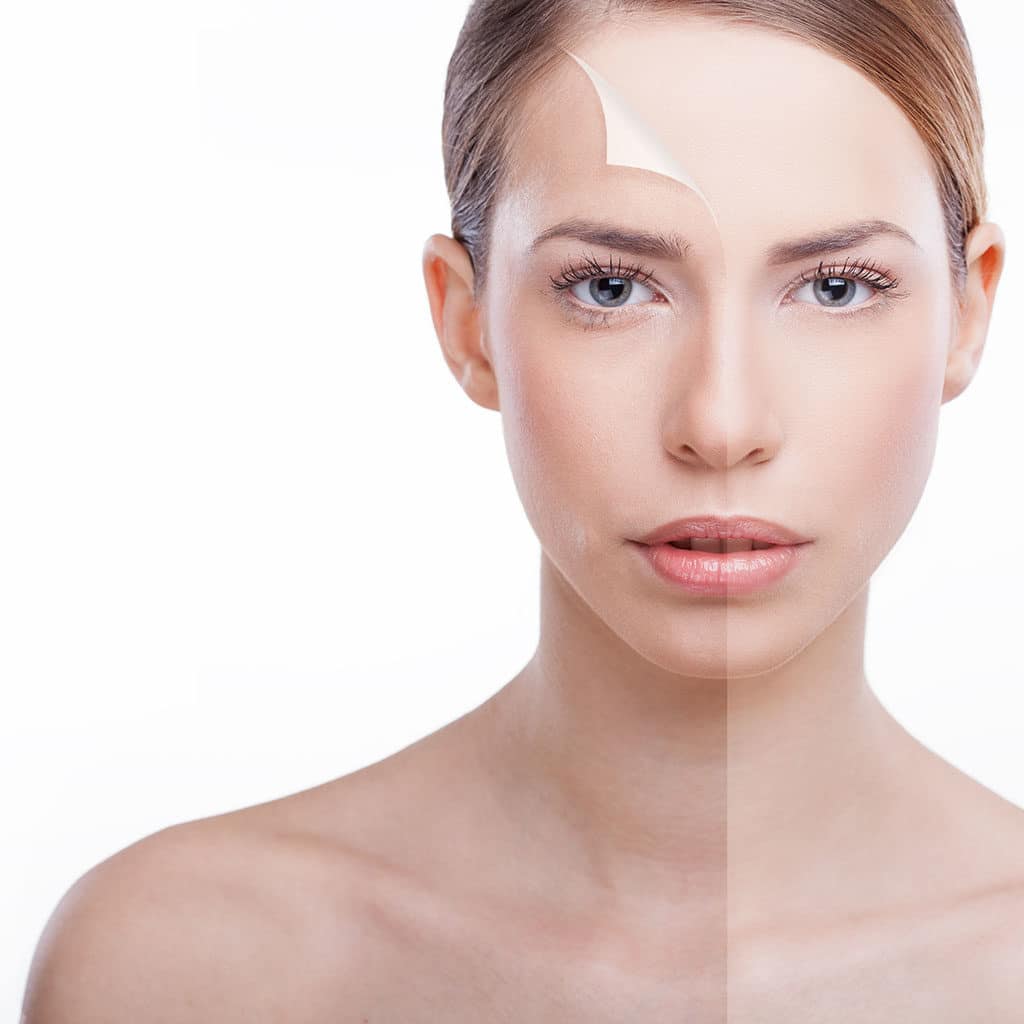 WHAT CAUSES ACNE?
Most scars that appear look like blemishes or craters on the skin's surface, although acne also causes painful raised scars called keloids or red, pink, or purple spots on the skin, which are not technically scars because they fade in time.
Acne causes inflammation and infection, often just below the skin. Acne scars are mostly the product of severely inflamed lesions like papules, cysts, and pustules. When acne breakouts penetrate the skin deeply, they damage the skin tissues beneath. After the acne clears, the body repairs this damage with collagen production. The scars can be depressed if there is little collagen and they can be raised if there is too much collagen produced.
Also, when the lesions clear, the skin reacts with what dermatologists call "post-acne hyperpigmentation," which means that the inflammation caused the skin to turn dark or colored where the lesion had been. These spots look like scars, but dermatologists and skincare specialists consider them to be real scars since they fade in time. However, this fading process can take years if you don't proceed with serious treatment.
WHAT CAUSES ACNE SCARS?
Once a lesion heals, it can leave behind a pigmented mark on the skin. This is because every pimple results in the loss or formation of tissues in the healing process. The loss of tissue results in milder scars, while the formation of new, thicker tissue can result in more severe spots.
HOW WE TREAT ACNE SCARS?
At Fattan Polyclinic Dubai, we have highly equipped departments and vast dermatology skincare. We provide the most efficient acne fight and remove the strong marks off your face. With a variety of plans from laser treatments to HydraFacial, filters to the deep cleansing session, we know how to get your skin off with the tough acne marks.
Acne Scar removal surgery may take more than one sitting. If the marks are strong, it cannot be erased in a single sitting. We not only rely on our treatment procedures but prescribe the most efficient aftercare products and guide to our patients who can achieve quick results.
The Consultation
The first step of an Acne scar treatment is having a detailed consultation and examination in the clinic with our board-certified plastic surgeon or dermatologist, to determine a tailor-made plan for each candidate.
The Treatment
The second step is to schedule the Acne scar treatment with the highly qualified and experienced plastic surgeon or dermatologist who is an expert in Acne scar treatment and other skincare treatments. The duration of the treatment depends on the treatment technique used.
Prior to any surgery or treatment, each patient is screened to ensure that it is safe to proceed with the procedure. This includes either a pre-anesthetic consultation, blood testing, and/or to ensure the patient is a fit candidate for the procedure.
The treatment procedure, which is done in the clinic, depends on the type of acne scar. There are different types of acne scars including;
Macules: These are flat red spots located where the acne lesion used to be. These can easily fade on their own albeit after a number of weeks.

Skin discoloration: This happens when a healed acne scar leaves discolored skin which is called post-inflammatory hyperpigmentation.

Tissue scars: There are types of acne which leave enlarged scars and raised tissue. These are called hypertrophic scars or keloids and are caused by the excess production of collagen in the skin.

Loss of tissue: These types of acne scars are known as follicular atrophy, atrophic macules, soft scars, depressed fibrotic scars or ice-pick scars and are caused by loss of tissue. They appear sunken and tend to look like pits in the skin.
The expert plastic surgeon accompanies the patient throughout the entire process of recovery and healing, through scheduled follow-ups.
The Recovery
The recovery varies on the type of acne scar that an individual has and the treatment technique used.
Over a period of time, the patient would typically have several post-treatment visits to the clinic to monitor the healing process.