Facelift
As humans age and lose their youthful appearance, the toll of time shows on their faces. The fine expression marks on the forehead, for instance, gradually evolve into marked creases and then ultimately deeper folds. The once-tight jawline becomes softer and sags, which gives people what is colloquially referred to as a 'turkey neck' or double chin.
There is no escaping the factors that contribute to the natural process of facial aging. These include a genetic predisposition that combines with elements such as gravity's pull, solar exposure, and personal habits, to determine how gracefully or not we will age.
Facelift surgery is done to reverse the marks of time. However, it cannot entirely stop the process of aging and the surgery itself will not alter one's fundamental appearance. Surgery is the only route to achieve desired results but maybe complemented with non-surgical treatments to rejuvenate the face.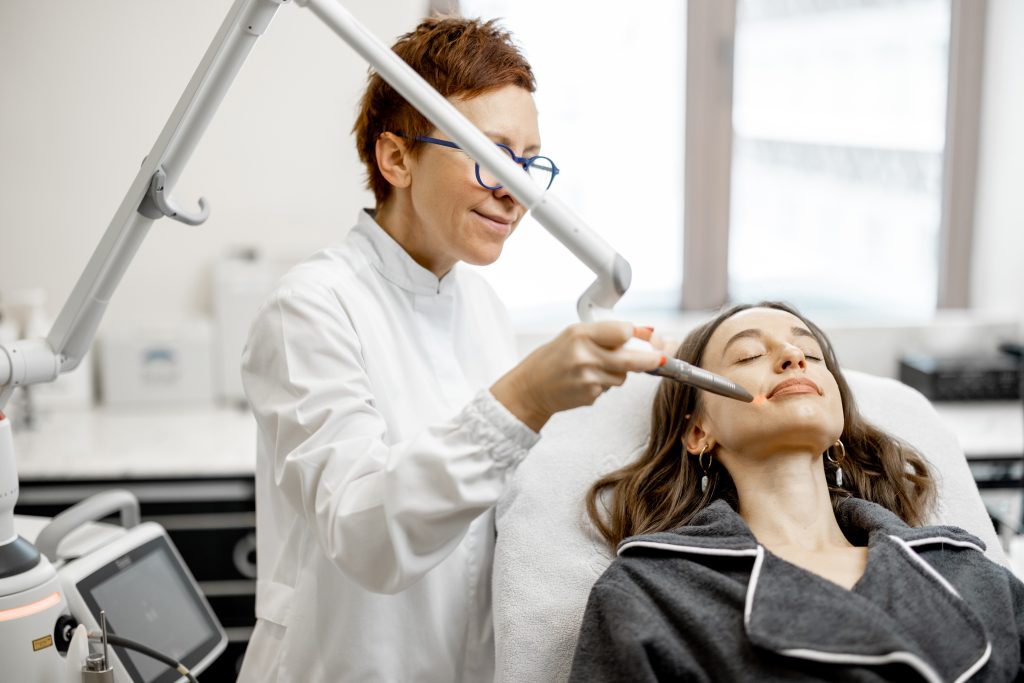 WHAT IS FACELIFT?
Facelift surgery is usually done as an outpatient procedure. It may involve a local anesthetics and sedatives or general anesthesia. The procedure can take from 2 to 5 hours, and the person can normally go home on the same day after surgery.
In a traditional facelift, the surgeon makes an incision in front of the ear, extending up into the hair or hairline as well as behind the ear into the hair-bearing scalp. The surgeon lifts the skin off the deeper facial muscles and fat, gently pulls the skin in an upward and posterior direction, and removes the excess skin. They may tighten the deeper tissues of the face.
A small incision, or cut, may be made under the chin to tighten the skin and deeper tissue of the neck. This is known as a neck lift. The incisions are then closed with sutures and possibly staples. A drain may be placed under the skin behind the ear for one or two days, to remove any excess blood and fluids. Bandages are applied.
WHY GO FOR A FACELIFT?
You might go for a facelift if you are losing confidence due to the sagging skin of your face and skin. If your reflection makes you look older and you are trying to hide the wrinkles on your neck by wearing turtle neck shirts and sweaters, then a facelift is the one you need. Facelift procedure has helped hundreds of people regain their self-confidence as it helps you reveal your younger, energetic and attractive side to the world.
There are different types of Facelift:
Upper Facelift

Some of us are born with a naturally expressive brow, complete with strong forehead muscles that showcase our surprise, skepticism, or concentration.  The unfortunate side effect of all this emoting can be heavy forehead and/or brow creases that age you or make it seem like you're wearing a perpetual scowl.

If you want to lift sagging skin or address deep wrinkles in the forehead area, an upper facelift might be the solution you seek.  A full brow lift will deliver dramatic results with incisions around the hairline that allow the skin of the forehead to be moved vertically, alleviating sagging and wrinkling, and even showing improvement to droopy upper eyelids, resulting in a more youthful and alert appearance.

For patients seeking something more subtle, a temporal brow lift allows for tightening toward the temples (rather than the top of the forehead), which can help with some laxity and wrinkling across the forehead, brow, and temples, and even provide a slight lift in the upper cheek area.  This procedure tends to have a shorter recovery time than a full brow lift.

Midface or Cheek Lift

The area that extends from the lower eyelids down through the cheeks and nasolabial folds is often a spot of some concern as we age, and there are a couple of cosmetic procedures designed to improve sagging and wrinkles throughout the midface and cheeks.  If bags under your eyes are making you look tired, even when you feel youthful and energetic, you might want to consider a lower eyelid lift or Blepharoplasty to remove excess fat and tissue, along with sagging, bagging, and wrinkles.

You could also undergo a cheek lift to address sagging skin and more significant creasing of the nasolabial folds. This may include incisions along the hairline above the ears, as well as incisions in the mouth to reposition tissue over the cheekbones. In some cases, a cheek lift is performed along with the lower eyelid surgery to address several issues simultaneously.

Lower Facelift/Neck Lift

You may be perfectly content with a few crow's feet and smile lines that give your face character and serve as a hallmark of a life well-lived, but when it comes to a sagging jawline and neck that are telltale signs of advancing age, you might be less inclined to let it slide.  This is where a lower facelift can help.

Typically, this type of lift involves incisions around your ear lobes that may extend to the hairline, as well as an incision under the chin, hidden in a natural crease.  This allows for the removal of excess skin so that the jawline and neck can be tightened to reduce sagging and create a more defined and youthful appearance.  In some cases, this procedure may be paired with a midface lift for better effect.

Complete Facelift

A combination of upper, midface, and lower facelift procedures, a complete facelift is exactly what the name implies, with overall tightening that reduces sagging, wrinkles, and excess skin all around for dramatic results and a comprehensively younger appearance.

If you're dissatisfied with facial sagging and wrinkles that age you before your time, contact the experts at www.fattanpolyclinic.com and learn more about your options and schedule a consultation.
MINI-FACELIFT
This procedure is usually performed on the aging effects that emerge from the mid-section of your face to your neck. This type of facelift surgery is quite extensive and takes longer period of treatment. Even though the recovery takes some time but when you see the results, you will definitely find it worth all the pain. This surgery is usually conducted by stretching the skin towards the incision made behind the hairline located near the temples. At our clinic, the cosmetic surgeons take special care in covering the excessive skin by hiding it within the natural folds of the skin. This procedure is quite helpful in smoothing out the wrinkles on the skin, removing sagging under the chin, and providing the face with a smart and contoured look.
STANDARD FACELIFT
If you are thinking about getting a facelift at Fattan Polyclinic, then you must keep certain things in mind. At Fattan Polyclinic you are going to meet with the team of best cosmetic surgeons in the world who are going to analyze your case for a number of factors.
THINGS TO BE KEPT IN MIND BEFORE OPTING FOR A FACELIFT PROCEDURE!
If you are thinking about getting a facelift at Highness Clinics, then you must keep certain things in mind. At Highness Clinics you are going to meet with the team of best cosmetic surgeons in the world who are going to analyze your case for a number of factors such as
The anatomy of your body

Your allergies

Your personal goals

The type of facelift you require

Appropriate timing for the surgery
You must keep in mind that you will most probably be provided with general anesthesia for the facelift. However, some surgeons prefer to go for local anesthesia in order to conduct the mini-facelift.
HOW YOU WILL LOOK AFTER THE RECOVERY?
Once you have recovered from the aftereffects of facelift surgery, you are going to be amazed with your newly toned facial skin. Due to the fact that our cosmetic surgeons offer best skin tightening treatment in the world, your skin will look five to ten years younger. However, in order to maintain the youthful look of your skin, you must not only maintain your body weight but also adopt a healthy lifestyle. Staying away from depression and stress is also important as stress makes your skin sag faster than anything else
HOW YOU WILL FEEL AFTER THE FACELIFT?
Due to the fact that facelift is a surgery so obviously you need to take some rest after the procedure. The recommended resting period is almost two weeks however, you cannot operate heavy machinery or indulge in drastic physical activity until four weeks after the surgery. This is the suggested resting period for the people who have gone through the standard facelift. However, if you have just had a mini facelift then your recovery period will be short in comparison to the standard facelift.
The best cosmetic surgeons at Fattan Polyclinic will also guide you how to take care of yourself after the facelift procedure. As every person's body responds differently to the procedure so your surgeon will provide you with customized instructions on what sort of precautionary measures you must take. Generally, you will be told not to go out in the sun because sunburn can damage your incision scar. Staying away from sun might help you heal faster.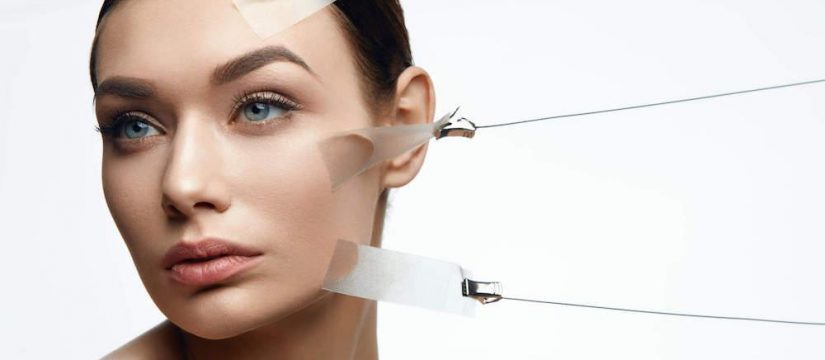 PROCEDURE
A facelift procedure may be performed in your doctor's office or in an outpatient surgical facility. Premedication is generally recommended to relax the patient. The procedure is usually performed under general anesthesia with the patient asleep, but can be performed using a local anesthesia. Your surgeon will operate on one side of the face at a time. The incision is placed in the natural crease of the facial skin and begins inside the hairline, in the temple area above and forward of the ear. It continues inside the ear, or in front of the ear around the earlobe and behind the ear. The skin is lifted outward and the surgeon tightens and repositions the underlying muscles and tissues. Excess skin and fat may be removed. The incision is then closed with fine sutures and/or metal clips. If metal clips are used, shaving hair from the incision site may be avoided. A facelift can take between two to four hours depending on the extent of the procedure.
CANDIDATE
You are probably an adequate facelift candidate if you are unhappy with the way that your face has begun to sag and descend. This rejuvenating procedure lifts and brightens your overall facial appearance, effectively taking years off of your face.
Specifically, a facelift can reverse the following problems:
Skin sagging

Jowls and sagging skin along the jawline

A double chin

Loss of facial muscle tone

Fallen facial fat

Deep folds extending from the corners of your nose

Deep folds extending from the corners of your mouth
These are the facial characteristics that we look for when recommending if a person is a candidate for a facelift or not. Additionally, we want to make sure that you are in good overall health, and that your body is able to withstand a surgical procedure. Good health lowers your risk of many complications. A review of your medical history and a discussion about any current health conditions can be expected.
We will also discuss your goals, including what you want to change about your appearance, and what result you would like to see. Reasonable expectations and a clear idea of what a facelift can and cannot achieve are important parts of a good candidacy. We want to make sure that we come up with a surgical plan that has reachable goals and that will give you exceptional results. Today, the facelift has a variety of techniques that are customized to your suit your individual needs.
A FACELIFT TARGETS THE LOWER 2/3RDS OF THE FACE
If you have been considering a facelift to reverse the signs of aging, you should understand what a facelift can and can't do. Although the incisions made for a facelift are hidden back in your hairline, it does nothing to correct the visible signs of aging in the upper face. A facelift provides an overall lift to the lower third of your face by tightening loose skin in the jowls, neck, and jaw line..
A facelift alone will not remove forehead wrinkles, crow's feet or bags under your eyes. These areas can, however, be treated at the same time as your facelift.
A FACELIFT CAN:
turn back the clock 7 to 10

years

smooth the appearance of wrinkles

reduce the amount of loose skin or excess fatty tissue especially along the jaw line

tighten the muscles beneath the skin of the face and neck

remove jowls and sagging skin
A FACELIFT CANNOT:
Change the texture of the skin or get rid of age spots, acne scars and fine lines

Reduce bags, wrinkles, and excess skin underneath or above the eyes

Address issues in the upper 1/3 rd of your face including your eyes and forehead

Stop the aging process
To get an idea of the results you might have, place your fingers on the center of your cheeks and press the skin up and back. Skin folds can be tightened and reduced, but not eliminated. If you softly pinch the skin in front of your ear, you'll see how much skin can be excised during the procedure.
HOW LONG WILL THE RESULTS LAST?
Some relaxation of facial tissues will occur during the first few weeks. After that, the aging process continues. Your lifestyle choices, bone structure, skin type, sun exposure and heredity all play a role in determining how many years can be removed and for how long. In general younger patients enjoy longer-lasting results. If you are in your forties, the effects may last up to 10 years. If you are in your sixties, your results may last 5 to 7 years.
RECOVERY AFTER FACELIFT SURGERY
Pain Level: Moderate discomfort. 1-3 days of pain medication.
Swelling and bruising:2 weeks or more
Numbness: lasts several weeks
Bandages: Changed in 1-2 days (drains and sutures removed first 2-5 days)
Work: Return after 1-3 weeks
Exercise: Wait 2-3 weeks
Sun protection: Six months with SPF 15 or higher
Final result: Seen 1-4 months following most facelifts
TO PREVENT COMPLICATIONS IT IS IMPORTANT TO:
• Keep your head elevated as much as possible to reduce swelling
• Apply ice packs to minimize swelling
• Do not take aspirin or anti-inflammatory medications
• Do not smoke or be exposed to secondary smoke during recovery
• Avoid exposure to direct sunlight
• Use a sunblock (minimum 15 SPF) to protect your skin