Chin Liposuction
If you're concerned with excess fat on your neck or lower jaw, chin liposuction may be able to help give you that chiseled jawline you've always wanted. 
Chin liposuction (submental liposuction) can radically improve jaw and chin contours without causing noticeable scarring. The procedure can be done in under an hour and causes minimal downtime, and the recovery has only minimal discomfort.
Patients who are naturally slim or work hard to get the body they desire can still have a hard time removing unwanted fat under the chin. Even fit and healthy people can have a double chin, giving the illusion they're heavier than they are. Fattan polyclinic will help you determine if chin liposuction will provide you with the neck and jawline contour you desire.
Almost everyone is familiar with liposuction and cosmetic surgery on the thighs, abdomen, and buttocks, but not many people are aware that liposuction can also be performed on the chin, jowls, and jawline. A double chin can be a persistent problem for many people and does not necessarily mean that the person in question is overweight. A double chin can also be hereditary, making it difficult to get rid of a double chin with exercise and a healthy lifestyle. To find out more about the chin and neck liposuction procedure, be sure to read on.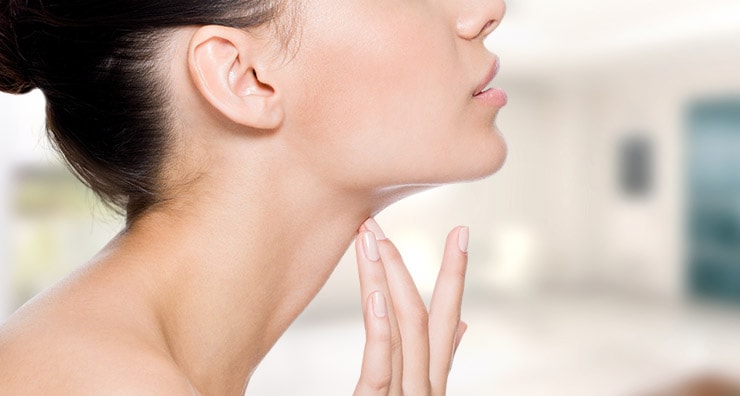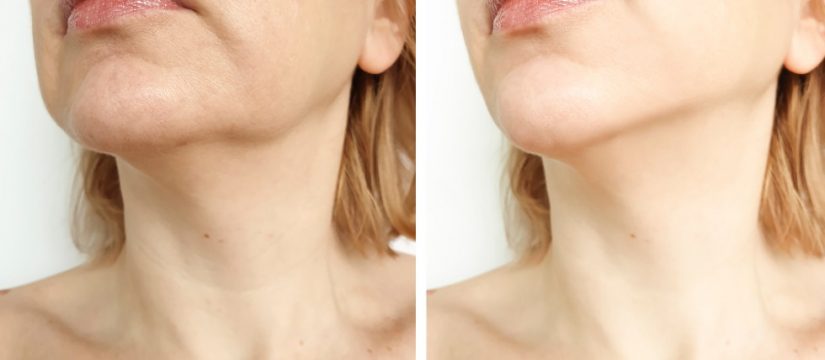 WHAT IS CHIN LIPOSUCTION?
Many patients rely on chin liposuction to achieve a more chiseled jawline, remove a double chin, and contour their face to appear slimmer. It is a common condition that occurs when a layer of extra fat is formed under your chin. If you are overweight it is not necessary that you will have a double chin too, which employs that it is not always associated with weight gain. Some other factors can lead to the creation of double chin such as genetics, aging, etc. You can have this treatment if you are concerned about your appearance. It improves the lost confidence of the sufferers and helps them in getting an attractive body.
WHAT ARE THE BENEFITS OF CHIN LIPOSUCTION?
The minimally invasive procedure with minimum downtime
Refines the jawline and improves the silhouette
The quickest way that provides effective results
Also tightens the loose skin of the face
Improves overall appearance
Boost self-confidence and self-esteem
It contours the neck and sculpts the chin
Reshapes areas of the body
PROCEDURE
Fattan Polyclinic performs the procedure right in our Dubai clinic. For most patients, chin liposuction takes less than an hour. We will apply local anesthesia to numb the area thoroughly. Then we makes tiny incisions that are only about one-eighth of an inch long under your chin. Using the cannula (a slim suction tube),  delicately brakes up and removes excess fat to contour your neck and remove the layer of fat responsible for a double chin. The small incisions will be closed with one or two stitches.
Chin liposuction is a same-day procedure, meaning you'll be sent home within a couple of hours. Usually, we will keep chin liposuction patients for a short observation period after the procedure to ensure they can return home safely. You will be sent home with care instructions for your incisions and a supportive chin strap to hold your skin taut during the healing process. Expect to wear the compression garment around your head for the first 48 hours after the procedure. We will go over all of the post-op care instructions with you. You may notice some bruising or swelling; this is completely normal and usually fades quickly.
We ask that you have someone there to drive you home as you may be groggy after the procedure. This is to ensure your safety and that of those around you on the road.
CHIN LIPOSUCTION RECOVERY
Bruising and swelling are common after double chin surgery. Meanwhile, most patients will be able to return to work one week following treatment.
After double chin liposuction, a patient will usually wear a head-wrap for about a week following surgery that keeps pressure under the chin. The head-wrap helps minimize chin swelling and ensures the skin will conform to the neck contour correctly. He or she should also try to remain elevated in an upright position in the days after surgery to speed up the healing process.
Fattan Polyclinic will help a patient prepare for double chin liposuction recovery. The surgeon will offer expert support before, during and after double chin surgery to help a patient achieve his or her treatment goals.
HOW LONG DOES CHIN LIPOSUCTION LAST?
Chin lipo has consistent long-term results. Maintaining a steady weight and living a healthy lifestyle can help keep maintain your new jawline. Good skin elasticity will also help preserve your results for years to come. 
AM I A GOOD CANDIDATE FOR CHIN LIPOSUCTION?
How do you know if chin liposuction is right for you? The development of a double chin is often not associated with weight gain. For many patients, it's an inherited trait that can only be improved with a cosmetic procedure. Fat also tends to accumulate in the area below the chin as we age. Patients whose neck skin retains most of its elasticity can benefit from liposuction because the skin will shrink to fit the new contours. For men and women concerned about sagging necks, jowls, and fat, We may recommend combining a facelift or neck lift with liposuction to produce a more youthful appearance.
WHAT TO EXPECT AFTER CHIN LIPOSUCTION?
You will have mild soreness that is dramatically improved after 2-3 days. Swelling during the first week may prevent you from seeing much of a change, but by week 2 your results will begin to appear.
HOW PAINFUL IS CHIN LIPOSUCTION?
Most people compare the pain after chin liposuction to mild cramping. This is not severe pain. Some temporary numbness of the treatment area is also normal.
CAN I SLEEP ON MY SIDE AFTER CHIN LIPOSUCTION?
Yes, you can sleep in any position that is most comfortable after chin liposuction. There is very little you can do to harm your results after this procedure if you maintain your diet and exercise habits.
WILL MY DOUBLE CHIN COMEBACK AFTER LIPOSUCTION/
In general, no. If you maintain your weight after chin lipo, you should have a more or less permanent volume reduction in the treatment area. If you gain significant weight after chin liposuction, you will deposit more fat everywhere on your body, but less so in the treatment area as the majority of the fat cells will have been removed by the liposuction procedure.