Acne Treatment Dubai & Chemical Peel 
Unless you are born and blessed with flawless skin, chances are extremely high that you will encounter acnes periodically throughout your life. Of course, change in your sleeping patterns, diet and lifestyle will help you prevent acne, but what about the scars left behind by them? Not that these scars are permanent, but we all know that they take forever to go away. This makes you blend with concealer on your forehead and cheeks over and over again every time you need to step out of your home.
However, if you are looking for a more refined and quick solution to getting rid of acne scars, we highly recommend you to get yourself acquainted with chemical peels.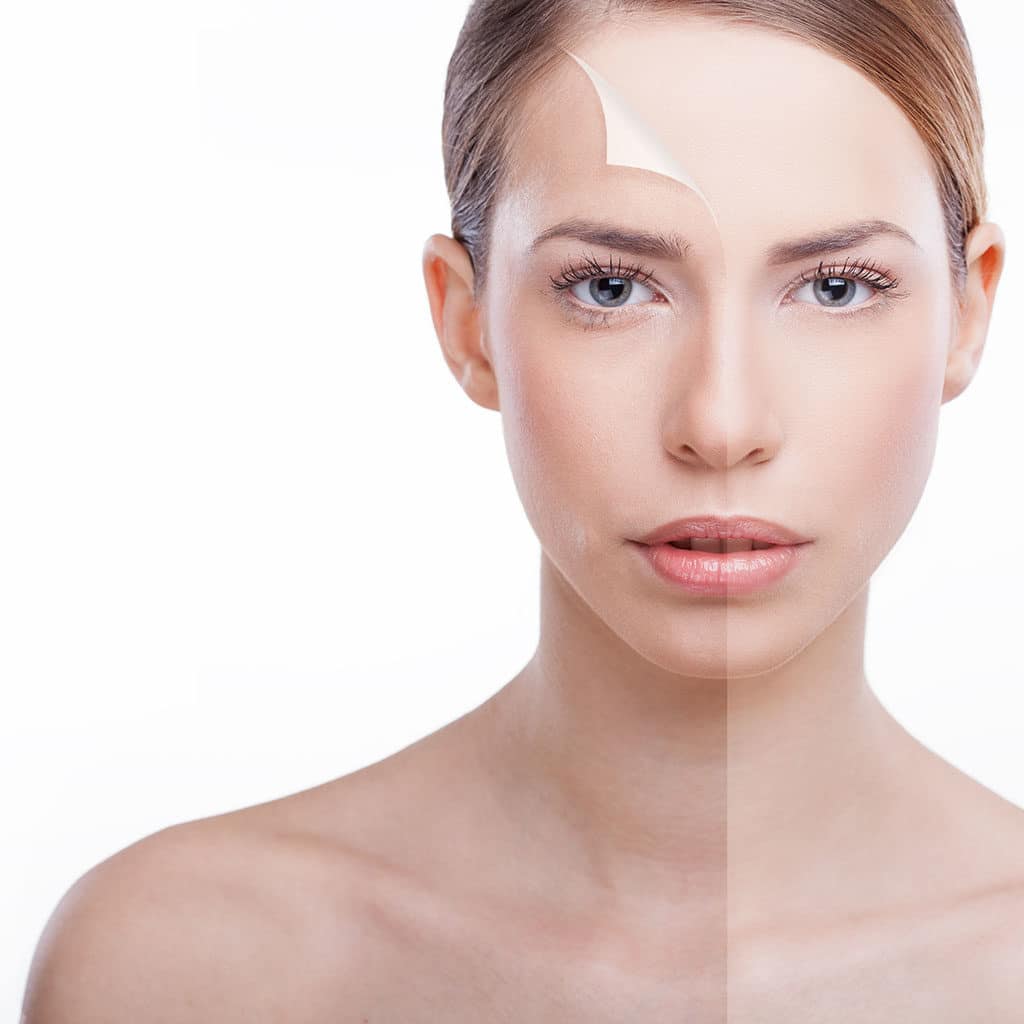 WHAT IS CHEMICAL PEEL?
Chemical peels are a strong type of chemical exfoliation wherein an acid solution is used to eliminate pore-clogging impurities and dead skin. It works on the mechanism of causing cellular level injuries to the affected area (similar to micro-needling) to surface new skin cells. They remove the top layer of unhealthy, scarred skin and allow new skin cells to develop in their place. To put it simply, the goal of chemical peels is to peel off old skin cells and replace them with new and healthier ones.  
The strength of the peeling solution will be determined by the severity of the acne scars. But, it should be noted that stronger peels require a longer downtime to heal since they cause deeper injuries than their lighter counterparts. 
When used with the right technique and under the supervision of a trained professional in a controlled environment, chemical peels can even rejuvenate your complexion.  In recent years, chemical peels have been recognized as a great way to maintain the health of your skin.
Now, you may think that they are just like exfoliators that you do at home. Well, yes, they are kind of exfoliators; the only difference is that they are much better at their jobs than your regular everyday exfoliators.  
The trauma from the subtle injuries inflicted by chemical peels not only removes the dead skin cells on a surface level, but it also stimulates the natural response of your body to produce collagen, which in turn, helps in vanishing your acne scars.  
WHAT ARE THE DIFFERENT TYPES OF CHEMICAL PEELS?
Chemical peels are broadly defined by the depth of damage in the skin that they produce. They are categorized as superficial (lunchtime peel), medium, and deep. Superficial peels do not damage skin below the epidermis, the most superficial skin layer. Medium peels may reach the superficial layer of the dermis, the deeper layer of the skin. Deep peels generally reach the deeper layers of the dermis. The depth of damage depends on the nature and concentration of the chemicals in the peeling solution and the length of time they are permitted to interact with the skin. Popular chemicals in peeling solutions include retinoids (tretinoin dissolved in propylene glycol), alpha-hydroxy acids (lactic acid and glycolic acid), beta-hydroxy acids (salicylic acid), trichloroacetic acid, and phenol (carbolic acid). Jessner's solution, a combination of resorcinol (14 g), salicylic acid (14 g), and lactic acid (85%) in ethanol (95%).
WHO IS THE IDEAL CANDIDATE FOR CHEMICAL PEEL?
This treatment is not for you if you are breastfeeding or are pregnant. This treatment is also not for you if you suffer from severe active acne. You are an ideal candidate for chemical peel treatments if you suffer from superficial acne or acne scars and have fair skin. 
PROCEDURE
A chemical peel can be performed in a doctor's office or in a surgery center as an outpatient procedure. Your skin will be thoroughly cleansed with an agent that removes excess oils, while your eyes and hair are protected. A chemical solution is then applied to your skin. Chemical solutions typically used include glycolic acid, trichloroacetic acid, salicylic acid, lactic acid or carbolic acid (phenol). The different types of chemicals cause a controlled injury, each penetrating through to a different skin depth, then peeling away to reveal a new layer of skin.
The different chemical solutions provide different results. The choice of chemical depends on your goal. You will work with your dermatologist to determine the depth of your peel.
A light ("lunchtime") chemical peel provides subtle improvement over time and is often done in a series. The outermost layer of skin is removed. This choice may be best if you have fine wrinkling, acne, uneven skin coloring or dry, rough sun-damaged skin to help promote a healthy glow. Recovery from this type of peel may be within hours to a few days but with little to no down time.

A medium chemical peel gives your skin a smooth, fresh look. The outermost layer and the upper part of your middle skin layer are removed. This choice may be best if you have uneven or moderate skin discoloring, age spots, acne scarring or fine-to-moderate wrinkles. Recovery from this type of peel may take a week or more and require some down time.

A deep chemical peel produces the most dramatic results. This chemical penetrates down to the lower middle layer of your skin. Recovery time is longer with a deep peel. This choice may be best if you have moderate lines and wrinkles, extensive sun-damaged skin, deep acne scars, blotchy skin, and/or precancerous growths called actinic keratosis. A deep chemical peel requires pretreatment for up to eight weeks. Your doctor will provide specific instructions. A deep chemical peel is a one-time only treatment if applied to your face and does have significant down time.
To prepare for your chemical peel, some general instructions include:
Avoid tanning and direct sun exposure for two weeks before each treatment.

Apply topical products (such as hydroquinone) as instructed before treatment to prepare your skin.

Don't use any products containing retinoids (such as tretinoin) one to two weeks before treatment, unless your physician tells you differently.

If you have been prescribed oral antibiotics or an oral antiviral medicine, start taking it at least 24 hours before your chemical peel.

Peel areas must be free of any open sores, lesions or skin infections.
Your doctor will give you specific instructions for your peel type and your unique skin condition.
Day of peel: Your skin will be thoroughly cleaned. If you are having a deep chemical peel, you will receive general anesthesia (you will be asleep).
The procedure: During a chemical peel, solution is applied to your skin. You may feel a warm to somewhat hot sensation that will last a few minutes. This is followed by a stinging sensation. To relieve the sting, a cool compress may be applied your skin. The chemical is then washed off and/or neutralized.