Many women go through breast augmentation surgery to enhance the size, shape, and texture of their breasts. However, it often happens that women change their opinion and want to reverse these procedures. The reasons for breast implant removal range, starting with complications that include implant rupture or deflation, capsular contracture, implant ripping or shifting, breast sagging, breast cancer, and more. On the other hand, some women just want to get back to their previous, natural state. It's a completely normal decision that comes after a long time of living with implants.
If you're considering breast implant removal, you can find more information about the procedure in this article. Our list of the pros and cons of breast implant removal may help you decide whether this surgery is for you or not. Hopefully, it will also inform you about every aspect of the procedure, so you can know what to expect and prepare yourself accordingly.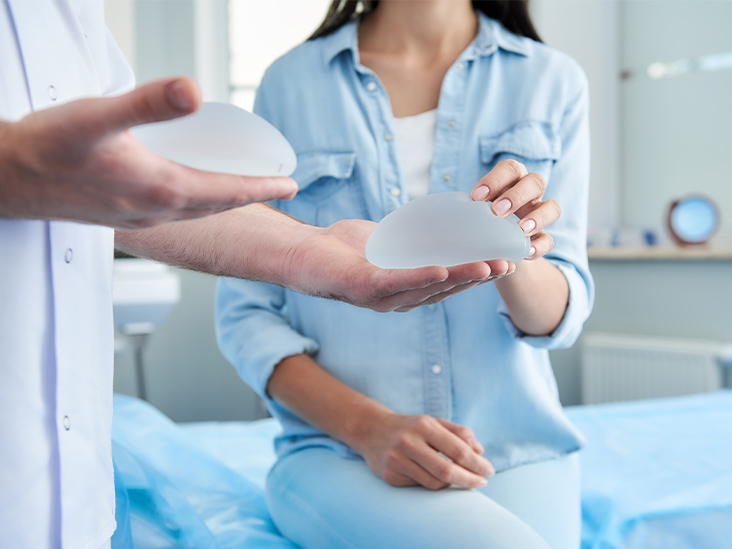 WHAT IS BREAST IMPLANT REMOVAL/REPLACEMENT SURGERY?
Breast implant removal surgery involves removing the implant and using the existing tissue to reshape the natural breast. To achieve the best results, you need a breast surgeon who is experienced in breast implant removal procedures. Shaping the breasts from the remaining tissue takes a great deal of experience to give you optimum results.
Women choose to remove their breast implants due to:

Medical concerns, such as ruptured implants and breast cancer

Changes to the breasts that are caused by pregnancy and aging

A desire to have natural breasts and to change the shape and size of the breasts
Often called a 'second boob job' – a re-augmentation involves removing your original implants, and any scar tissue, then replacing them with new ones which can be a new type of implant, shape and size. It can also be combined with a breast uplift as part of the surgery.
WHY DO WOMEN REMOVE BREAST IMPLANTS?
It's common for women to want their breast implants removed over time and the reasons behind this range. In most cases, it's about resolving complications that lead to uncomfortable and painful conditions. For example, capsular contracture is the most common reason for breast removal. The condition occurs when the capsule around the implant hardens, and consequently, distorts the implant and causes pain to patients. 
However, some women also want to reverse the effects of breast augmentation and reconstruction surgery because of the change in their preferences concerning their physical appearance. Oftentimes patients who have had breast implants for ten to twenty years come to the surgeon's office wanting to take them out rather than having them replaced. Why? They just feel their breasts are the wrong size or shape for the new body. Some of them even got tired of the implants, wanting their natural breasts back after many years. It's often for the aesthetic ideals to change for the people over the years, and this is not an exception.
It's also important to know that some women develop Breast Implant Illness (BII) symptoms. Although BII is not recognized as an official medical diagnosis, doctors and patients use it to refer to a group of symptoms developed by women with breast implants. These symptoms include, but are not limited to: 
fatigue

chronic pain

concentration problems

breathing problems

irregular sleep 

rashes and skin problems

dry mouth and dry eyes

photosensitivity

anxiety

depression

headaches

hair loss
BII can occur with all breast implant types and affects everyone differently. It is considered an autoimmune/inflammatory syndrome which effects can be reduced or eliminated completely after breast implant removal. 
On top of the already stated, breast implants can cause other side effects and complications. Here are some additional risks involved with breast implants:
silicone leakage

infection

capsular contracture

tension bands asymmetry

implant rupture

breast pain and changes in nipple and breast sensation
Breast implant removal sometimes helps with resolving some of these issues but not always. Keep that in mind before you go on another surgery and ask your surgeon for advice. He or she will know best whether you're the right candidate for breast implant removal surgery and will help you with your symptoms. 
BREAST IMPLANT REMOVAL WITH REPLACEMENT
Some patients are unhappy with size and wish to go either larger or smaller than their current size. In these cases, breast implant removal with reaugmentation can help restore volume and fullness once the implant has been removed. Many patients will also opt for a breast lift
Sometimes breast implants require replacement for various reasons. If you're experiencing complications with your implants or if you feel you want to change the size of your breasts, it may be time to remove and replace your implants.
HOW IS BREAST IMPLANT REMOVAL PERFORMED?
Breast implant removal surgery requires general anesthesia. Your breast surgeon will make incisions in one of several areas — around the areola, near the armpit, or under the breast. The size of the incision is based upon how much breast tissue must be moved in order to access the implants. Your breast surgeon carefully removes the breast implant and examines the underlying tissue for signs of scarring. If possible, they will remove any scar tissue that may affect the shape of your natural breast. Your breast surgeon will work with the soft tissue to reshape the breast and then close the area with sutures.
You may be advised to wear a compression bandage following your breast implant removal to keep your breasts in the proper position. For the first few days, you will be tired, and you may have bruising, tenderness, swelling, and mild bleeding. Full recovery can take a few months, so you should plan to limit your activities.
AM I A CANDIDATE FOR BREAST IMPLANT REMOVAL SURGERY?
Our plastic surgeons want you to be happy about your decision to remove your breast implants, so we take the time to fully understand your motivation to have surgery. An evaluation for breast implant removal surgery is the basis for our surgical plan. We will examine your breasts to determine if you are an ideal candidate and will explain the surgery and post-operative recovery.
WHAT TO EXPECT AFTER SURGERY
Pain is rarely strong, more commonly being a degree of discomfort. Swelling occurs but usually begins to subside by the third or fourth day. Some degree of swelling may persist for longer periods. A well-fitted bra is worn day and night for three weeks. While there is probably seldom interference with future breast feeding, women are cautioned that it may not be possible to breast feed in the future.
• Resumption Of Physical Activities
• Driving may be resumed in 2 weeks.
• Non-contact sports in 3 weeks.
• Contact sports in 6 weeks.
• Sexual activity in 2 weeks.
BREAST IMPLANT REMOVAL/REPLACEMENT BENEFITS
One of the great things that come after the breast implant removal process is pain relief. For women who develop BII symptoms, implants become a terrible burden that causes not only physical but psychological pain. Depression doesn't wait for too long to crawl along with the other symptoms, and most women just feel overwhelmed. Thus, breast implant removal sometimes comes as a real gift.
Most women who went through the surgery reported feeling relief immediately. The pain that comes with large implants is the first to go away. Shoulders, back, and neck suffer the most in this case, and when the extra weight from the chest is removed, the pain simply stops. 
Another thing that goes away after the surgery is the fear of complications. As you know already, implants do come with several health risks. They can leak, distort, cause inflammation, capsular contracture, and more. Without implants, women don't have to worry about any of these risks. 
It's also important to mention that some women noticed improvements in their overall health condition. It's not a secret that implants can sometimes cause pain in the breasts, bad body smell, tiredness, fatigue, and more. In these cases, breast implant removal is incredibly beneficial. 
Breast augmentation recovery usually takes 6 to 8 weeks. It might be longer if you develop complications, like an infection or implant leak.
To ensure a smooth recovery, follow your surgeon's instructions. Wear the recovery bra, and care for your incision sites as directed. Be sure to get plenty of rest and eat a healthy diet. In about 8 weeks, you should be fully recovered and ready to resume normal activities.