Skin Whitening Treatment for  Dark Underarm Whitening & Intimate Area
For many people, dark underarms can be a source of embarrassment. Darker underarm skin can keep some people from dressing in sleeveless tops, wearing bathing suits in public, and participating in sports.
Like skin blemishes and discoloration on other parts of the body, dark underarms can result in a lack of confidence and self-esteem.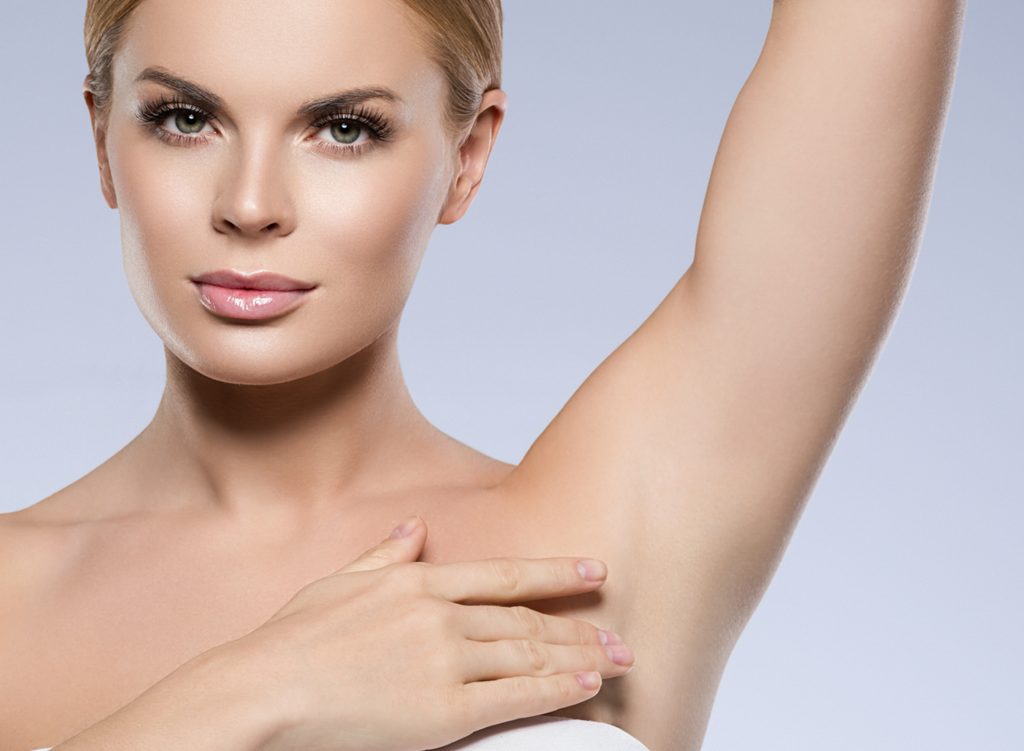 WHAT CAUSES DARK ARMPITS?
There are various potential causes for armpits becoming darker including:
deodorants and antiperspirants (chemical irritants)

shaving (irritation and abrasion)

dead skin cell accumulation (lack of exfoliation)

friction (tight clothes)

smoker's melanosis (hyperpigmentation caused by smoking)

hyperpigmentation(increased melanin)

acanthosis nigricans(often a sign of diabetes, obesity, or abnormal hormone levels)

erythrasma(bacterial infection)

melasma(dark patches on skin)

Addison's disease(damaged adrenal gland)
TREATMENT BENEFITS
Even toned skin matching to the rest of the body parts

Freedom from embarrassment of wearing sleeveless clothes or swimsuit

Reduced risk of further darkening of underarms and intimate area in future.

Freedom from unwanted hair growth on these areas.
HOW IT IS DONE?
The dermatologist first examines the dark areas and suggests the cause of darkening and best methods to remove pigmentation.
First we clean the area, and there are some skin lightening products and peels that are applied and left on the affected area for sometime and then wiped off.
Second option is laser treatment, we all know that occurrence of body hair on this sensitive area make it look more dark so laser treatment helps in reducing hair in this area. Thus, make it look more clean and color shade also gets lightened with due sessions.
UNDERARM PIGMENTATION TREATMENTS
The goals of underarm pigmentation treatment is first to treat any underlying factors. For example, if you have atopic eczema, regular use of moisturisers help to repair the skin barrier and prevent an eczema flare. In addition, it would be wise to do a test spot on a small area of skin when using new skin care products such as a deodorant for the first time. Sun protection and the use of a regular sunscreen can minimise darkening.
A variety of topical treatments are available to help lighten pigmentation. However, the use of these topical products are only limited to pigmentation affecting the epidermal layer of the skin. Dermal pigmentation does not respond well to topical creams and chemical peels. During the consultation, we will examine the area of pigmentation using a Wood's lamp to determine the extent and depth of the affected area.
Multiple lightening ingredients that have been used for pigmentation have both a anti-inflammatory and depigmenting effect. This may include kojic acid, niacinamide, tretinoin, corticosteroids and hydroquinone. One study showed good results with topical niacinamide 4% and a mild potency steroid. We have specially formulated topical lightening creams suited for all skin types however new or old your underarm pigmentation may be.
UNDERARM WHITENING LASER TREATMENT
Laser system can effectively target deeper pigmentation within the skin.
This treatment is suitable for cases in which underarm pigmentation has not responded to topical lightening creams, mixed epidermal and dermal pigmentation, and predominantly dermal pigmentation.  The laser energy breaks down the melanin, which is subsequently taken away by your body's healing response in a few treatment sessions.
What Is The Procedure Like?
The underarm whitening laser treatment procedure is comfortable and well tolerated. Your skin is cleansed and provided goggles are worn for eye protection. During the laser procedure, you may feel a tingling warm sensation. This is a completely painless procedure.
Is There Any Downtime?
There is no significant downtime associated with the underarm whitening laser treatment. Sometimes, there may be mild redness over the skin and you may experience a mild tingling sensation. This lasts mostly minutes and at most a few hours after the procedure. Resuming normal activities and using our prescription lightening products can be applied soon after the procedure. 
How Fast Will I See Results?
The degree of improvement will depend on factors such as depth, severity and skin type. Generally, you may see improvement in the appearance of pigmentation from about 6 weeks. This is because the fragmented pigmented particles are gradually resorbed by the body's immune system.