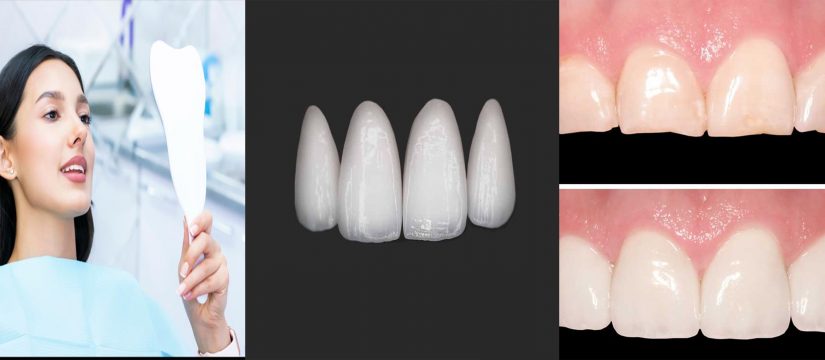 Dental veneers are thin, custom-made shells that dentists can place on the front of the teeth to improve their appearance. Veneers can hide stained, chipped, and uneven teeth.
For some people, having damaged or discoloured teeth can affect their confidence or self-esteem. Dental veneers fitted by a professional dental clinic in Dubai can help improve the appearance of the teeth.
This article discusses what dental veneers are, the different types of dental veneer available, the costs, the benefits, and the dental veneer fitting procedure.
Dental veneers are custom fittings designed to help hide or correct dental damage, including:
stains and discoloration
chips and small missing pieces
decay
crookedness
gaps between the teeth
Dental veneers help improve the appearance of a person's teeth. They may be beneficial for people who want a long-term solution to persistent cosmetic concerns — particularly those that do not respond to other dental treatments, such as teeth whitening, braces, or retainers.
During the placement process, a dentist will typically remove a small amount of enamel, which is the thin protective outer covering of the teeth. Because of this, once the dentist places the veneers, a person cannot remove them or choose not to use them.
Types of veneers
There are two types of veneers: porcelain and resin-based composite. The following sections will outline these options in more detail.
Porcelain veneers
Porcelain veneers are a strong, thin cap that a dentist can place on the tops and sides of the teeth suring porcelain veneer installation service.
To attach them, the dentist will remove some enamel from the tooth before placing them. Porcelain veneers have the same colour as natural teeth, but it is possible to make them whiter to brighten the smile.
Resin-based composite veneers
Resin-based composite veneers are like porcelain veneers, but they tend to be less expensive and require less enamel removal. Sometimes, a dentist may not have to remove any enamel before placing the composite veneer.
Composite veneers are usually easier to replace if broken or damaged than porcelain veneers.
Before and After: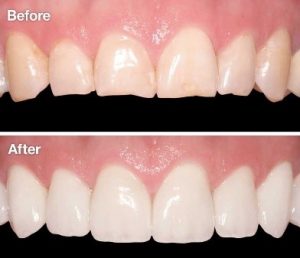 Aftercare
After the placement of veneers, the dentist may want to check them in a follow-up appointment. During this, they will look to make sure that the veneers have stayed in place and are comfortable for the wearer.
This is a good opportunity for a person to mention if any of the veneers do not feel right, as a dentist can help fix them.
A person with new dental veneers does not need to avoid any foods or beverages following their appointment.
That said, because veneers may stain over time, a person may want to avoid coffee, tea, and red wine, as well as other things that can cause stained teeth, to make them last longer.
The dentist may also advise against:
biting hard objects
biting the nails
Looking for dental veneers? Visit our Dubai dental clinic to get custom fittings. Book an appointment with us right away!