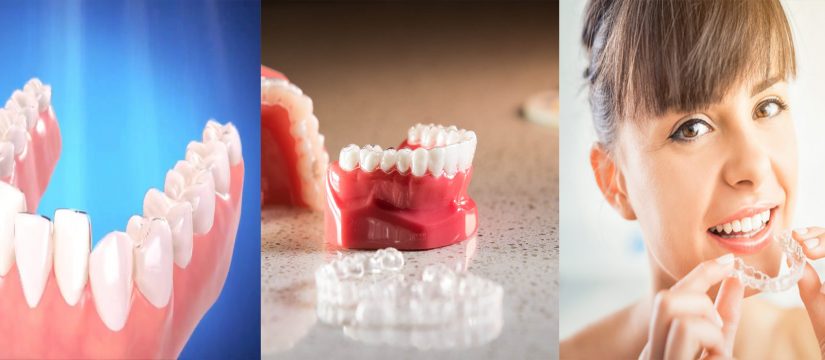 Get the Best Invisalign Dubai
Invisalign Teen is the only aligner therapy designed to address the unique concerns of treating malocclusion in teenagers. This is because the aligners are removable, the teens can then continue to eat their favorite foods and brush and floss their teeth normally to keep their teeth and gums healthy and free of cavities. Invisalign Teen has all the features of Invisalign, plus additional features specially designed just for teens.
The ability to remove your straightening system and eat your favorite foods, and of course continuing your normal oral hygiene routine is becoming very popular among adolescents.
Orthodontic Experts from our dental clinic in Dubai list the top eight benefits for Invisalign Teen:
Confidence Builder
No Poking Wires
Fewer Appointments
Great for Athletes
Shining on Stage
No Food Restrictions
Better Oral Hygiene
Photos without Braces
Invisalign has emerged as a near-perfect solution for repositioning wayward and improperly spaced teeth. The merits of Invisalign treatment extend beyond merely producing a gorgeous smile. Invisalign aligners promote optimal oral health, can be removed with ease, and allow you to eat the foods you love. Let us take a closer look at the numerous benefits of Invisalign treatment.
Invisalign Aligners Reduce Your Chances of Gum Disease
If your teeth are improperly spaced or overcrowded, you are that much more likely to end up with gum disease at some point in the future. Alternatively, if the teeth are positioned exactly where they should be, the gums will fit nicely and firmly around the teeth, creating a robust barrier against infections.
Invisalign Corrects Bite Issues
Invisalign remedies everything from overbites to underbites and open bites. Overbites, also referred to as an overjet, occurs when the upper teeth protrude beyond those at the bottom. This condition typically results from underdeveloped bones, genetics, and poor oral health. An underbite is present when the lower teeth move beyond those at the top. Underbites result from insufficient upper jaw growth, lower jaw overgrowth, or a combination of both. Missing additional teeth will also lead to an underbite.
Underbites and overbites must be corrected with Invisalign or an array of oral health problems will manifest in due time. Underbites and overbites cause everything from gum irritation to wear along with the lower teeth, joint issues, a painful jaw, and tooth dysfunction. Invisalign can prevent/correct all these problems and then some.
Invisalign Eliminates Open Bites
Open bites are characterized by upper/lower teeth that cannot make physical contact with those they face. Open bites are commonly caused by excessive thumb-sucking and/or an oddly formed jaw. Fail to have your open bite corrected with Invisalign or another solution and you will end up with pain while chewing and/or speech impairment.
An Effective Solution for Crossbite
Crossbites occur when the lower and upper jaws are misaligned. This condition leads to one or multiple upper teeth biting the inside portion of the lower teeth. Crossbite can occur along the front of the mouth as well as the sides. If you suspect you have a Crossbite or if your dentist states so, Invisalign is the answer.
Overcrowded Teeth
If there is not enough room in the jaw for the teeth to fit properly, they will become overcrowded. Overcrowded teeth are a problem beyond their unsightliness. Overcrowded teeth are a problem as they cause tooth decay, gum disease, the build-up of plaque, and even worse. If your overcrowded teeth are neglected, there is the possibility they will endure deep cracking. Do not let this happen! Meet with your dentist for a full mouth analysis and Invisalign aligners.
Invisalign Provides an Important Confidence Boost
Patients plagued by overcrowded or crooked teeth often suffer from low self-confidence. These patients are sometimes hesitant to smile wide, laugh or even eat in front of others. This is no way to live life! Self-confidence is especially important for young people who are hyper-aware of their physical appearance and searching for a romantic flame. opt for Invisalign treatment and your crooked or improperly spaced teeth will gradually shift to the proper positions. It might take upwards of a year or so for the transition to occur, yet it is well worth this comparably brief wait. There is no reason to live the rest your life with a flawed smile when Invisalign is available. Straighten your teeth with Invisalign and you will have the confidence you need to be yourself when interacting with others, smile, laugh, talk, and eat without worrying about how your teeth look.
Summary
Invisalign is an orthodontic treatment option that allows people to straighten their teeth using clear trays, called aligners. These trays are made that gently guides the teeth into the desired position. Tooth movement is also aided by composite attachments that are temporarily bonded to certain teeth depending on the movements needed. These attachments are the same colour as the teeth and are hardly noticeable. Invisalign trays are worn twenty-two hours per day and are removed when eating. Each tray is worn up to two weeks and then changed for a new one.
Fattan Polyclinic is a local Dubai dental clinic providing Invisalign treatment and other services. Book an appointment with us for your Invisalign braces!