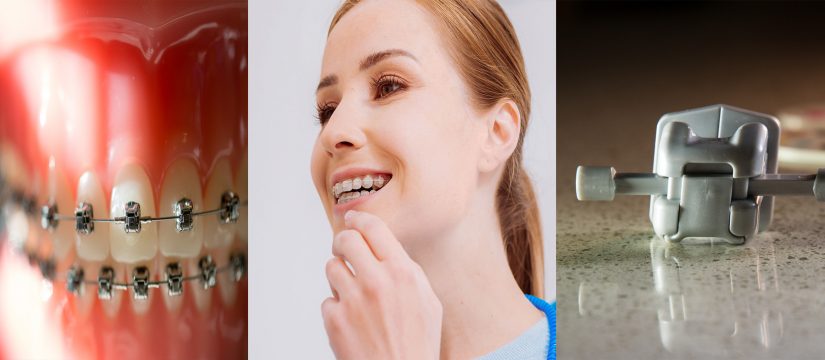 The Best Braces in Dubai with Damon Braces
Damon braces are a popular brand of self-ligating, or self-tightening, braces. This means that instead of using elastic bands (ligatures) to keep the archwire that moves your teeth attached to the metal brackets, Damon braces use a slide mechanism—like a small, spring-loaded door—to secure the wire.
The braces are fitted in the same way as traditional metal braces, but because the wire that connects the slide brackets produces less pressure than traditional elastics do, it moves naturally with your teeth as they align.
As a result, teeth can move more freely, quickly, and with less discomfort, according to the company.
The Challenge
Many patients of our friendly dental clinic in Dubai want to avoid traditional braces that can cause pressure and uncomfortable pain. Traditional braces have wires and brackets that extend throughout the mouth, which gradually move teeth into their proper position with some pressure. They also use ties that connect wires to the teeth.
Damon Smile technology is different because it helps to guide teeth gently into place by reducing the amount of force. When you can wear braces in comfort, the process becomes much less intimidating.
The Benefits of Damon Smile Braces
Faster results. Damon braces do not contain metal or plastic ties, so there is no need to tighten the wire on them. Damon Smile also has a unique system that allows for self-ligating. This system has a specialized clip with a "door" in place of the elastics in traditional braces.
Fewer appointments. Lightweight, shape-memory wires allow teeth the freedom to move faster, without the need for as many adjustments.
Damon Smile realigns teeth and enhances facial appearance without extracting any teeth or using rapid palatal expanders. The slide mechanism facilitates a more comfortable repositioning of your teeth.
Better oral health. Damon braces are easier to clean because they do not have ties attached where food particles commonly get stuck.
Helps with facial balance. These braces can help achieve a wider smile, improves facial profiles, and help to decrease dark triangles that appear in the corners of the mouth.
If you are considering a braces treatment for yourself or your child, ask Fattan Polyclinic about the Damon Smile system and how this orthodontic method can achieve the results you are looking for. There are an array of benefits to appreciate when you compare the Damon method to traditional braces.
Feel free to visit our Dubai dental clinic if you have questions regarding orthodontic treatment for a more beautiful smile. Book your meeting with our specialists!